One expects a salon to be relatively busy on a Friday afternoon. But one doesn't expect it to be chockablock with clients and staff, rocking out to thumping sounds! Such was the case at Identity Salon in Encino, California, when I visited it to spend some time with hair maestro Mohammad Rahebi.
Mohammad grew up in Iran and was inspired by his hairdressing mother to pursue a career in the beauty biz. At 17, he enrolled at the Vidal Sassoon Academy in London and later worked in salons in Texas and San Francisco before settling down in Encino in 1990. He opened up Signature Salon, a bustling business employing 93 stylists. "It was great," he smiles, "but after a while, I got too busy tending to the business and not enough to my clients." So, in 2006 he sold Signature, which was renamed Identity Salon, and he now works full-time behind the chair as well as managing the salon's day-to-day activities.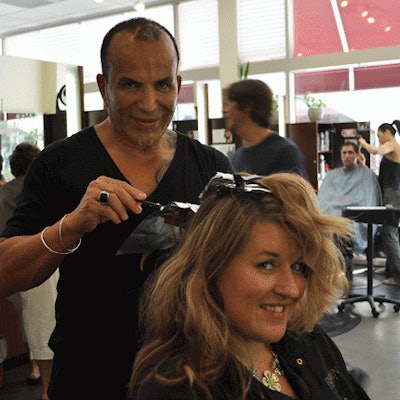 All of this he tells me as he's snipping away at my strands, which he's already expertly highlighted. I tell him that I've always found that the best hairdressers don't really need to ask what their clients want—they KNOW. And Mohammad knows what I want without asking  many questions. Perhaps this is in part due to the fact that he styles between 40-50 clients A DAY, as well as his stellar training. Either way, no amount of training can prepare me for the shears that he busts out at this point...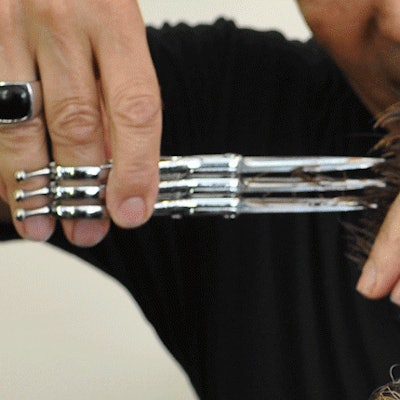 Yeah. You're seeing this correctly. Three shears in one. I've never seen anything like it! "I found them in Singapore," he smiles in response to my slightly alarmed question. "They create great texture." But no matter how frightening they may look, he's a true pro, weilding them as effortlessly as would a samurai wield a sword.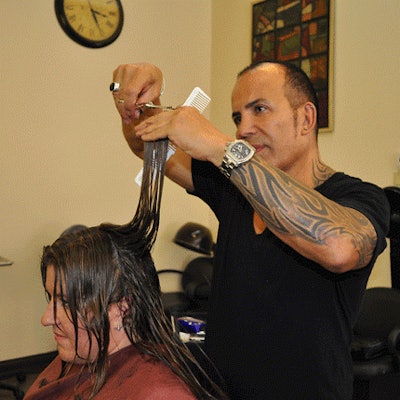 I ask Mohammad what really gets him motivated. "Whether I'm adding a small streak of color, a deconstructed piece, some extensions, or fuller bangs, I want my clients to leave every session feeling a little bit different—and a whole lot better—than when they came in," he says. "I always wake up thinking, 'What can I do today that is new and innovative?'" That's why he's at the salon at 7 a.m. every day, working till well past 7 p.m.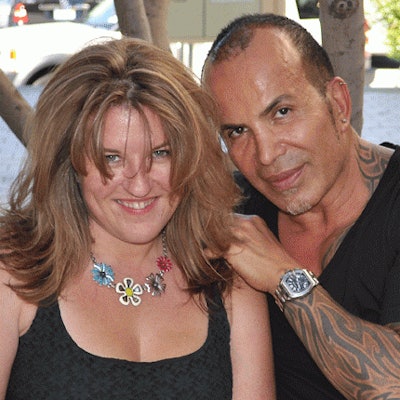 After my expert blow out and styling, I get up slightly dazed. How can it be that I've only been in his chair for less than an hour? I feel like Mohammad has been exclusively tending to my tresses for hours—days—but in a good way! To put it bluntly, I feel like a superstar. Another sure sign of a professional, no? —Amy Dodds