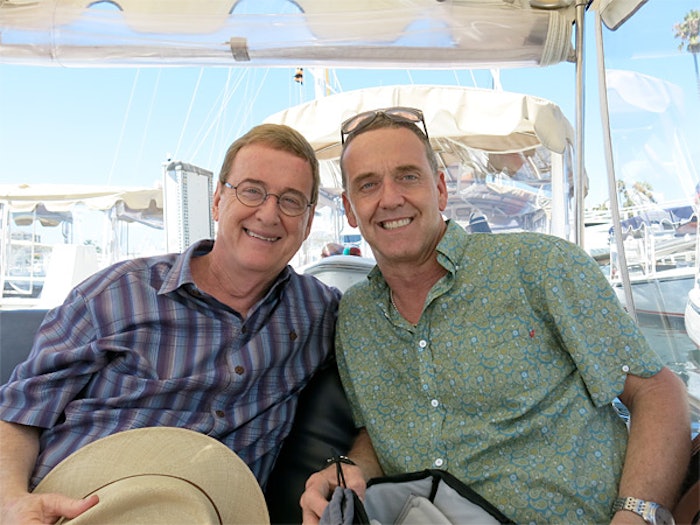 On Monday, September 16, I was reminded once again that there really is no place on earth like Southern California. I was invited by ColorProof Evolved Color Careas a special guest to join 27 sales consultants on a cruise around Newport Beach and nearby Balboa Island. The weather was perfect: mid-70s, slight breeze, sun glinting off the harbor sea. I was warmly received by Jim Markham, founder of ColorProof, and the sales team. After a few preliminaries, we were escorted onto two boats; I was on the boat captained by Jim Markham himself!
As I chatted with the sales consultants, I found out a bit more about the amazing work they had done. Through hard work, dedication and opening new doors, they helped to introduce ColorProof to many different areas of the U.S. and Canada, and this weekend package was their reward. (Talk about perks of the job!) "Our sales consultants play a critical role in the growth of ColorProof and we are thrilled to welcome the stars of our brand to our home," Markham said, adding, "Chances are, someone on this trip will be our first million dollar sales consultant and we can't wait to find out who that will be."
The weekend began with a meeting with ColorProof Founders and key executives complete with exclusive, unplugged insight into Markham's unique and highly effective, nothing-but-the-best method for creating the finest products available that has earned him many awards over the course of his storied career. Each guest received a deluxe welcome bag worth more than $135 packed with new and unreleased products including CrazySmooth Anti-Frizz Treatment Masque, TruCurl Curl Perfecting Shampoo and Condition plus WickedGood Weightless Shine Spray. What's more, the Markhams opened their doors for a private BBQ in their backyard overlooking Crystal Cove. And after the Duffy boating experience, everyone was treated to a Blow Dry service at SAS Blow Dry Bar with bubbly and light bites, followed by dinner at one of Newport Beach's premier dining destinations. And finally, each recieved a gift certificate to O.C.'s world-renowned outdoor shopping location, Fashion Island.
A weekend to remember, indeed!