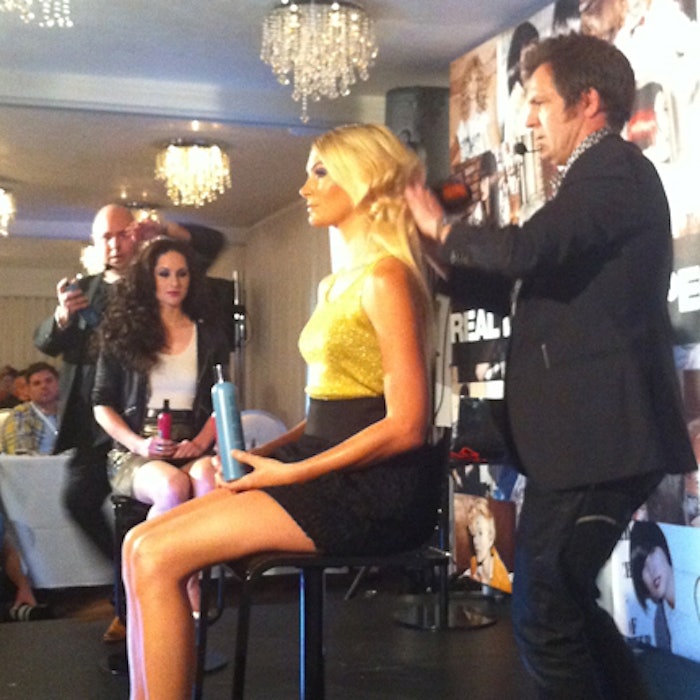 Yesterday, I was privileged to be one of the 110 people invited to an intimate unveiling of the new and improved KMS California. And, my oh my, are you guys gonna be impressed! KMS is dedicated to being hairdressing brand that drives salon business and success. Anja Martens, VP of global marketing, got emotional as she expressed to the crowd how much she and her team poured their hearts and souls into the relaunch. "I'm so proud of the brand," she said, wiping away tears. "I don't know why I'm crying though!"
Artistic directors Clive Allwright (left) and Edwin Johnston demo FREESHAPE onstage.
Perhaps it has a little something to do with how every aspect of the brand has been examined and put to the test. Taking its inspiration from the streets, KMS is embracing individual style with unexpected, curious and real being core key words to the brand. "We're obsessed with freedom of style," Martens declared.
So with packaging redesign, some products moving to different segments, and a brand-new segment, FREESHAPE, there's a lot to look forward to! Personally, I can't wait to get my hands on the FREESHAPE line, which replaces flatout. Each product is imbued with thermopolymer, a heat-activated polymer that allows for shorter styling time, restylability and style retention. In other words, if I want to blow-dry my hair straight on day one, yet curl it on day two, no problemo! The thermopolymer actually melts when it is in contact with heat, then solidifies when it cools, allowing for long-lasting style memory. Oh, and the faster drying time ain't no BS claim: more than 80% of test subjects reported a decrease in drying time, with more than 60% of those people reporting it was sped up by 25%. I don't know about you, but I can use that extra time in the AM.
This is just a taste of what's to come. Keep your eyes peeled for our September issue, which will cover the entire relaunch in detail.