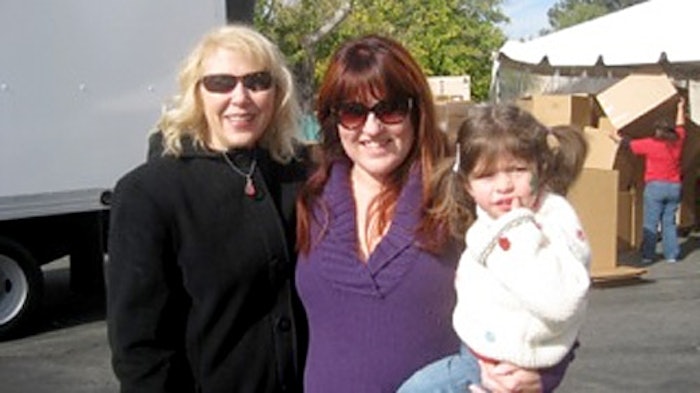 Melissa Beyeler, Kevin Ryder and Celebrity Stylist Marie Ferro. Beyeler and her husband, Ryder, who's a DJ on KROQ-FM, founded the charity, Friends and Helpers.
I've said it countless times: One of the best aspects of the beauty industry is everyone's willingness to give back to the community. And on Sunday, December 8, I was able to be part of that giving back spirit. I, along with my sister Kristin, who was visiting from NYC, and my kids James and Lily, trekked up to Wilbur Avenue Elementary School in Tarzana, California, to assist Friends and Helpers in their annual goal of stuffing stockings for thousands of families affected by abuse.
Ferro poses with Launchpad Editor Amy Dodds and her daughter at the annual Friends and Helpers holiday stocking stuffer event.
"We're stuffing more than 5,000 stockings this year," Melissa Beyeler, Friends and Helpers Cofounder, told me. Which is shocking to me, since the charity is essentially a local one. Sadly, as economic woes continue to plague families, cases of abuse tend to rise. Nevertheless, the mood was festive as nearly 200 volunteers came out to help those in need. Additionally, a silent auction took place to help raise funds, and a $2 raffle ticket allowed volunteers to bid on several gift baskets, such as this one from Malibu C.
The holiday program provides families in Los Angeles-area shelters with a happy holiday, including gifts for each family member, stockings for children, coupons for food, needed everyday items and beauty bags with necessities for women and their children.
Marie Ferro, of Marie's Hair Studio, managed the women's beauty bag campaign. Some of the beauty companies that stepped forward to help were The Body Shop, Colorproof, Goldwell, Phyto, Burt's Bees, OPI, Malibu C, Paul Mitchell and Room at the Beach. After food and shelter, the most requested items by battered women and their families are beauty and self care products. These small items go a long way in restoring some self care and esteem in traumatic situations.
For more information on how you can help, please visit friendsandhelpers.org. Every single penny donated goes directly to helping battered women and children in need.