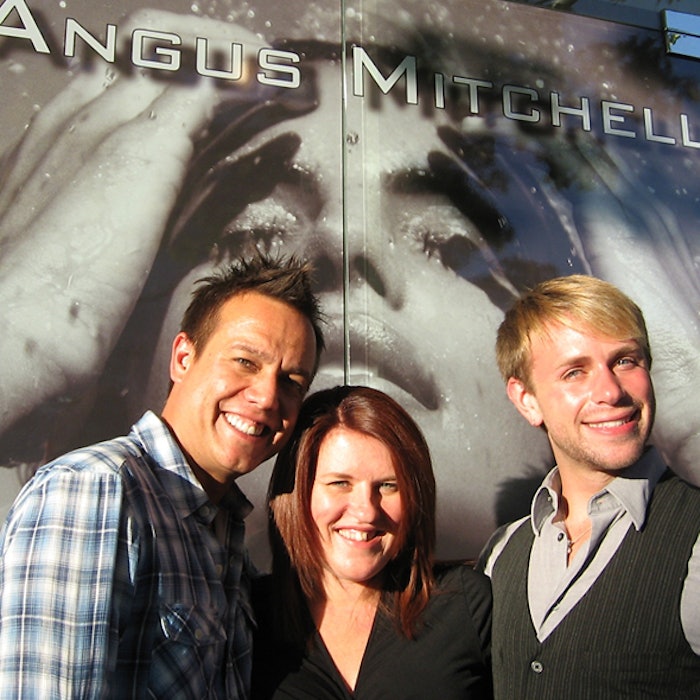 So yesterday I was blessed to be a guest at the Angus Mitchell Salon in Beverly Hills for a color with Christopher Enlow and a cut with none other than the owner himself! First, let me begin by telling you what a well thought out salon this is. Upon my walking in, I was greeted by Elisa Bennett, the salon business manager, who gave me a quick tour of the two-story, 12-chair salon. She pointed out the artwork hanging upstairs (courtesy of Angus, natch) that can close to protect celeb privacy as it adds Angus' stamp to the salon.
d out like a sore thumb. However, Christopher, true pro that he is, latched onto the first words that came out of my mouth: "I don't want a haircolor that will be hard to maintain."
Armed with this knowledge, Christopher convinced me to stay red (not that I really needed that much convincing, truth be told). He let me know that I'm a natural level 5—"Where red lives!" he exclaimed—and that if we retouched the roots today and pulled a demi through the midshafts and ends, the red would fade on tone and match with my regrowth. So, that's just what he did. Using paul mitchell the color 5RB (red brown) and 5 WM (warm mahogany), he touched up my regrowth. We chatted about trends and celebs, which you'll read all about in the August issue of The Colorist, and then I was whisked away into the Wash House. It was an oasis of calm in there! Soft, Enya-esque music filled the room; candles flickered; it was bliss. Christopher's assistant, David Dennis, massaged my scalp in such a way it must have added a year to my life. Then the demi PM Shines was added—6 RB + 6 R (red) + 6 NG (natural gold)—and, get this, massaged into my hair by David's capable hands for a full 15 minutes. "Christopher's a true pro," boasted the assistant of his mentor. "Many other colorists would just let the client hang out at the shampoo bowl during this time, and hope that the dye penetrated the hair. And it most likely would—but Christopher wants to be sure. That's why I'm massaging it into your hair."
Like a kid who can't wait for Christmas morning, Christopher kept coming back to check on the progress and exclaimed with joy each time he saw the color. "It's always sort of a surprise to see how the hair takes to color," he explained with a grin. Finally Christopher blew dry a section of my bangs to ensure that the color was just so. And, naturally, it was.
Next, it was cutting time! I told Angus that as summer was on its way, I would be wearing my hair curly more often, but didn't want too many layers. So he explained that he'd use a technique that took away bulk in the interior, maintained the length, and wouldn't leave me looking like a cheesehead when I let my hair go curly. And for the next 45 minutes—I'm quite sure it's the most amount of time any stylist has ever spent cutting my hair—Angus worked his shear magic on me. And apparently it was as good for him as it was for me. "You know," he said, "it doesn't matter what's going on in my life, how stressed out I am, as soon as I get my fingers in hair, I'm grounded."
Curly Hair Update!