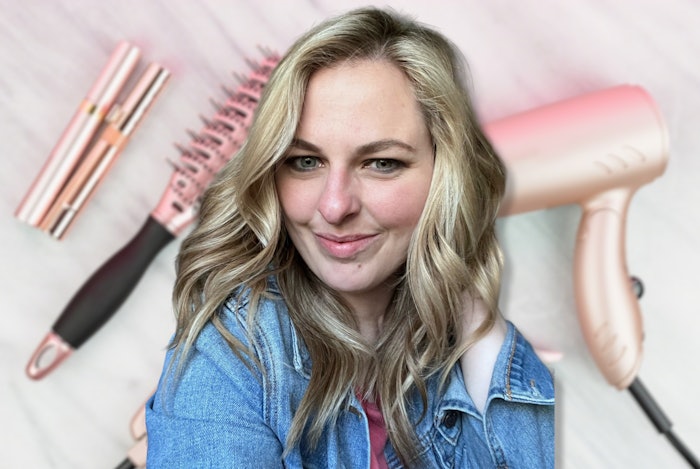 courtesy of @hairbymeganperez
Over the course of the month, we will be spotlighting the winners of Beauty Launchpad's 25 Under 50K for 2022.
Here, you will get to know Megan Perez. Perez is a hair artist at Planet Color Salon and Suites in Frankfort, Illinois. In her Q&A, you will learn her favorite hair trends, a fun fact about her, her proudest accomplishment and more. 
Beauty Launchpad (BLP): What is a fun fact about you? 
Megan Perez (MP): I can sing and do funny voices. 
BLP: What is your proudest accomplishment?
MP: This year, I have gained so much recognition from so many different platforms. I can't even believe this is my life right now. 
BLP: What is your current favorite hairstyle trend? 
MP: '90s blowouts
BLP: What is a hair tip you have for fellow salon professionals? 
MP: Surround yourself with like-minded people. Cheer for your friends and celebrate your victories, no matter how small or big. 
BLP: What inspires you? 
MP: My family. I have the most supportive husband, and my daughters are my biggest cheerleaders. 
BLP: What do you love about your work? 
MP: The fact that creating art on hair is my job is incredible. My clientele and my salon family make going to work so enjoyable. 
BLP: What motivates you about this industry? 
MP: I love the beauty industry because with hard work and determination you can achieve anything; the opportunities are endless. 
BLP: What is a professional goal you have for yourself? 
MP: I would love to start doing in-person classes soon! 
BLP: Who is a role model you have in the industry? 
MP: Eric Vaughn is extremely talented and supportive.
To see our full spread for this year's 25 Under 50K recipients, you can read Beauty Launchpad's November/December 2022 digital magazine.