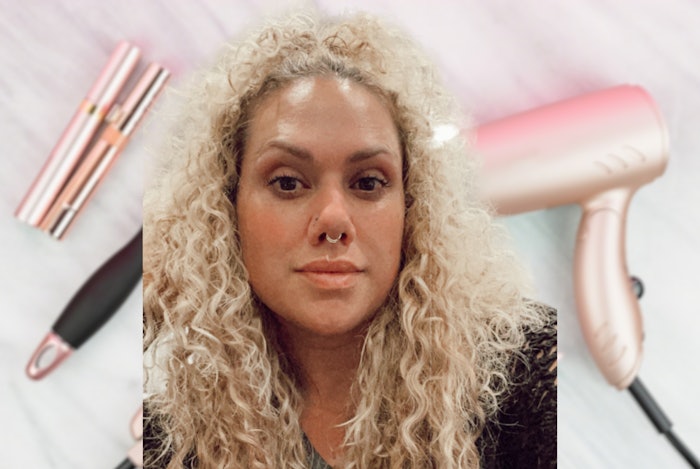 courtesy of @the_colorchameleon
Over the course of the month, we will be spotlighting the winners of Beauty Launchpad's 25 Under 50K for 2022.
Here, you will get to know Marie Ashman. Ashman is a hairstylist at Tease Hair Studio in Hudson, Massachusetts. In her Q&A, you will learn her favorite hair trends, a fun fact about her, her proudest accomplishment and more. 
Beauty Launchpad (BLP): What is a fun fact about you? 
Marie Ashman (MA): I love to lift heavy things, and I've competed in Strongman competitions in the past. Oh, and I've pulled a Jeep before! 
BLP: What is your proudest accomplishment? 
MA: Buying my ideal house all on my own.  
BLP: What is your current favorite hairstyle trend? 
MA: Curls! As a natural curly girl, I love that we're having our moment now!
BLP: What is a hair tip you have for fellow salon professionals?
MA: Consultations are key to a successful service. 
BLP: What inspires you? 
MA: Anything colorful (sunsets, sunrises,  nature, animals). 
BLP: What do you love about your work?     
MA: I feel like this might be cliché, but really seeing how happy my clients are at the end of their service. Someone could sit down in my chair, not having the best day, and then seeing a smile on their face when I'm done with their hair means the world to me. 
BLP: What motivates you about this industry? 
MA: Fellow artists and pushing myself out of my comfort zone.  
BLP: What is a professional goal you have for yourself? 
MA: To get out and teach more independent classes.  
BLP: Who is a role model you have in the industry? 
MA: Alix Maya definitely inspires me with her amazing art and creative mind. 
To see our full spread for this year's 25 Under 50K recipients, you can read Beauty Launchpad's November/December 2022 digital magazine.