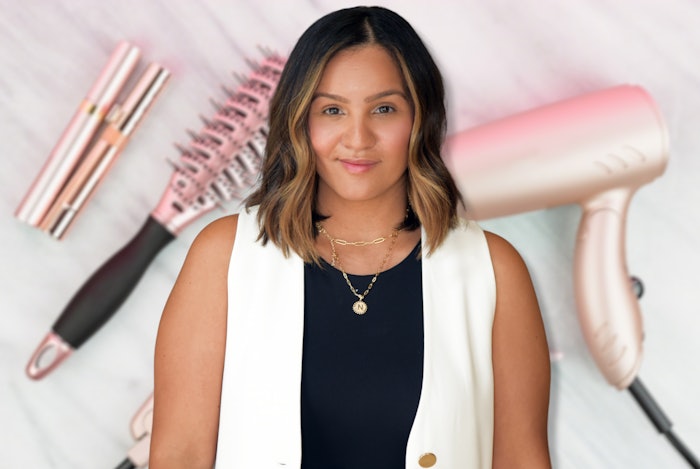 courtesy of @hairbynathi
Over the course of the month, we will be spotlighting the winners of Beauty Launchpad's 25 Under 50K for 2022.
Here, you will get to know Nathi Vega. Vega is a brunette and lived-in color specialist at Hair by Nathi. In her Q&A, you will learn her favorite hair trends, a fun fact about her, her proudest accomplishment and more. 
Beauty Launchpad (BLP): What is a fun fact about you?
Nathi Vega (NV): I'm a licensed respiratory therapist. I used to work in the Intensive Care Unit for six years part-time, while still doing hair part-time, saving lives and taking care of patients on a mechanical ventilator.
BLP: What is your current favorite hairstyle trend?
NV: I'm really loving the shorter layers, angles and curtain bangs this year! Also, the variations of warm tones.
BLP: What is a hair tip you have for fellow salon professionals? 
NV: Find your passion, your niche and perfect it over time. You'll start to build that clientele around what you love to do.
BLP: What inspires you? 
NV: Learning from other stylists in this industry!
BLP: What do you love about your work?
NV: The fact that I used to save lives on a day-to-day basis in the hospital and have translated that behind the chair. I feel like I'm still saving lives when I get to transform my client's hair, and they tell me I made them look and feel good about themselves. It's the hug at the end of the appointment that makes my cup full.
BLP: What motivates you about this industry?
NV: I've never been a complacent person, and because this industry is always evolving, it motivates me to step out of my comfort zone and try new things. 
BLP: What is a professional goal you have for yourself?
NV: I would love to work with more hair brands and do more classes next year.
BLP: Who is a role model you have in this industry?
NV: Marina is someone I've admired for awhile now. Her foil work is gorgeous, and we both share a love for brunettes. Summer Evans is such a boss babe and dear friend! Her haircuts really hit the gram different, especially her bobbies; she always shares her wisdom in such a positive way.
To see our full spread for this year's 25 Under 50K recipients, you can read Beauty Launchpad's November/December 2022 digital magazine.