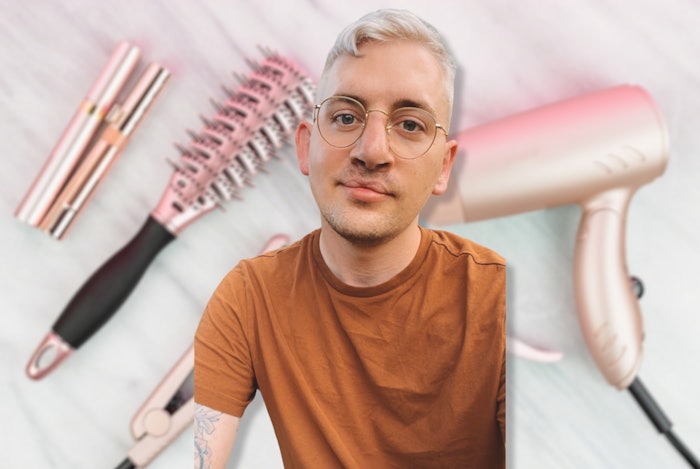 courtesy of @mason.bearden.hair
Over the course of the month, we will be spotlighting the winners of Beauty Launchpad's 25 Under 50K for 2022.
Here, you will get to know Mason Bearden. Bearden is a blonding specialist at Mason Bearden Hair in Herrin, Illinois. In his Q&A, you will learn his favorite hair trends, a fun fact about him, his proudest accomplishment and more. 
Beauty Launchpad (BLP): What is a fun fact about you?
Mason Bearden (MB): A fun fact about me that my clients all enjoy is that I actually grew up and spent most of my time on a farm and peach orchard.
BLP: What is your proudest accomplishment?
MB: Honestly, proving to myself that I can build a career full of people I love and enjoy being around. 
BLP: What is your current favorite hairstyle trend?
MB: My favorite will always be platinum white hair that is even from roots to ends.
BLP: What is a hair tip you have for fellow salon professionals?
MB: The best tip I've received is sometimes less really is more when foiling. Don't overthink it! 
BLP: What inspires you?
MB: A lot of different things inspire me. It can be colors that I see on a hike or a conversation with a client. Also, my mom is the hardest worker and always found a way; I think her work ethic and will to help is something that I've always looked up to.
BLP: What do you love about your work?
MB: I love getting to be around really cool people every day. I may be biased, but I have the best clientele and coworkers that make coming to work not feel like work. 
BLP: What motivates you about this industry? 
MB: An aspect that I have always loved about this industry is that it is constantly changing; it really pushes you to keep learning and be willing to try new things.  
BLP: What is a professional goal you have for yourself?  
MB: My current goal within the next few years is to keep building my business. I'd like to also get into education and possibly open up my own studio space.  
BLP: Who is a role model you have in the industry?  
MB: My role model in the industry will always be @theplatinumgiraffe. I've followed her for a long time, and her blonding skills are still unmatched in the industry.  
BLP: What is your favorite career-/work-related memory from this year?
MB: Aside from being chosen for this article, I recently hired my first assistant, and it has been so great learning together and being able to show her what I've learned over the last six years in the industry. 
To see our full spread for this year's 25 Under 50K recipients, you can read Beauty Launchpad's November/December 2022 digital magazine.