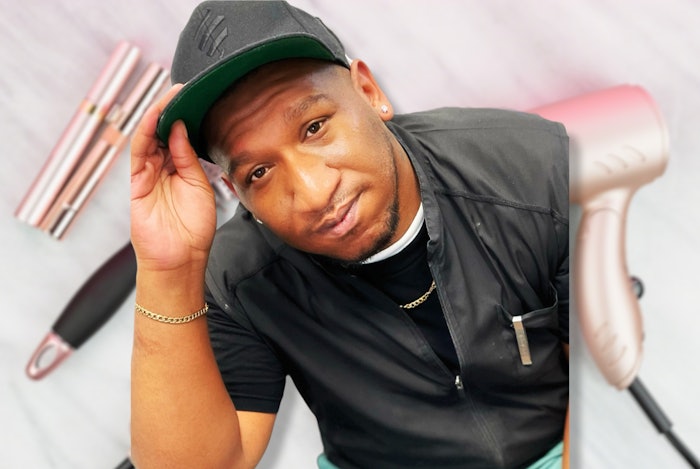 courtesy of @thatmothercutter
Over the course of the month, we will be spotlighting the winners of Beauty Launchpad's 25 Under 50K for 2022.
Here, you will get to know Randyn Anderson. Anderson is a barber and suite owner at That Mother Cutter Barber Studio. In his Q&A, you will learn his favorite hair trends, a fun fact about him, his proudest accomplishment and more. 
Beauty Launchpad (BLP): What is a fun fact about you? 
Randyn Anderson (RA): I spent eight years primarily as a stylist before making a drastic switch to barbering and learned how to do hair by learning what not to do.
BLP: What is your proudest accomplishment?
RA: My proudest accomplishment is that I was able to get my studio opened during the pandemic with extremely limited resources.
BLP: What is your current favorite hairstyle trend?
RA: The re-emergence of the mullet.
BLP: What is a hair tip you have for fellow professionals? 
RA: Trust the process. Not every haircut is going to look like the end result until you get to the end; don't get discouraged and see it through. Also, wet hair lies and can have you second-guessing yourself. When in doubt, dry it out.
BLP: What inspires you? 
RA: I am inspired by the evolution of barbering since I've been behind the chair. To think this industry would be where it is today and a complete culture in itself is amazing.
BLP: What do you love about your work?
RA: I love the connections you get to make with people. A diverse cultural melting pot of people; seeing kids grow into grown men; and people sometimes at their worst transforming their lives, is incredible.
BLP: What motivates you about this industry?
RA: I am motivated by the ability to constantly create. Not only behind the chair, but with Instagram Reels and TikTok videos; I never feel stuck in a box and can continually stay productive in some form.
BLP: What is a professional goal you have for yourself?
RA: My goal I am locking in on is to attend Menspire Academy in 2023.
BLP: Who is a role model you have in the industry?
RA: The biggest role model I have is Luis Molina. All the lessons learned, work ethic, initial training, mentorship and encouragement to move on—I am forever humbled and grateful to have had the opportunity.
BLP: What is your favorite career-/work-related memory from this year? 
RA: My favorite memory of this year is Premiere Orlando, working and showcasing at the Barber Strong stage.
To see our full spread for this year's 25 Under 50K recipients, you can read Beauty Launchpad's November/December 2022 digital magazine.