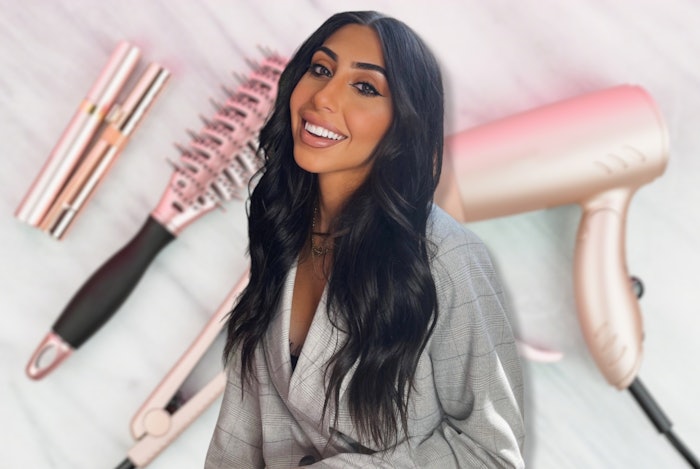 courtesy of @glambylexx_
Over the course of the month, we will be spotlighting the winners of Beauty Launchpad's 25 Under 50K for 2022.
Here, you will get to know Lexy Delicata. Delicata is a hairstylist and salon owner at Glam by Lexx Hair Studio in Windsor, Ontario, Canada. In her Q&A, you will learn her favorite hair trends, a fun fact about her, her proudest accomplishment and more. 
Beauty Launchpad (BLP): What is a fun fact about you? 
Lexy Delicata (LD): I have a fraternal twin sister! It is truly the best thing ever; it's a forever best friend. 
BLP: What is your proudest accomplishment? 
LD: My proudest accomplishment would be when I made a tough decision to leave the first and only salon I ever worked at after graduating cosmetology school to start my own journey by opening up my own suite salon. This was a scary and difficult decision, but I took the chance, and it definitely paid off. I really started to see myself grow as a stylist, and my career began to take off. 
BLP: What is your current favorite hairstyle trend?
LD: My current favorite hairstyle trend is simply a rich brunette with warm tones throughout. Less is more, and I think this trend is a great example of that! 
BLP: What is a hair tip you have for your fellow stylists?
LD: If I could give one tip to a fellow hairstylist, it would be to not be afraid to put yourself out there. Taking risks and facing new challenges will allow you to grow as a stylist, and being ambitious will open more doors and opportunities for you. Reach out to brands that you love, and let them get to know you and your work with the hopes that one day you can work together.
BLP: What inspires you? 
LD: Social media is the biggest inspiration for me because it provides so many different outlets to help connect worldwide with other stylists, learn new techniques and discover up and coming trends.  
BLP: What do you love about your work?
LD: There are so many things I love about work, but if I had to choose, it would be that I get the opportunity to make people feel more beautiful and confident every day. I love connecting with my clients and allowing my salon to be a safe space for my clients to vent and feel comfortable to be themselves. 
BLP: What motivates you about this industry?
LD: My fellow hairstylists continuously motivate me through their passion for our incredible industry. They motivate me to always keep learning and improving through both successes and struggles. I am truly grateful to be in such an amazing industry with so much talent.
BLP: What is a professional goal you have for yourself?
LD: I have a couple goals that I will strive to achieve throughout my career. I would love to be able to work with brands to represent products that I am passionate about and stand behind. I would also like to get involved with educating new hair professionals and equip them with the necessary tools to be successful in this industry. I think these two goals are perfect to express my creative and leadership sides! 
To see our full spread for this year's 25 Under 50K recipients, you can read Beauty Launchpad's November/December 2022 digital magazine.