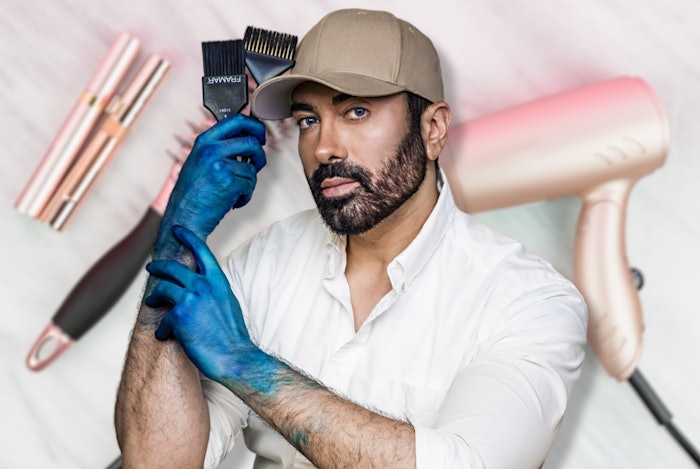 courtesy of @thathairstylist_jimy
Over the course of the month, we will be spotlighting the winners of Beauty Launchpad's 25 Under 50K for 2022.
Here, you will get to know Jimy Kosmakos. Kosmakos is a hairstylist and creative director at Spa on the Avenue: A Salon by Debbie Spa in White Marsh, Maryland. In his Q&A, you will learn his favorite hair trends, a fun fact about him, his proudest accomplishment and more. 
Beauty Launchpad (BLP): What is a fun fact about you?
Jimy Kosmakos (JK): For a hairstylist, I am a lot more introverted than most people would think. I'm an INTJ. Small talk is hard for me, so in my chair it tends to be either deep conversation or comfortable silence (offer a beverage and a phone charger and get to work). 
BLP: What is your proudest accomplishment? 
JK: Does surviving my 30s count? In recent years, becoming a Wella master color expert. 
BLP: What is your current favorite hairstyle trend?
JK: Mushroom tones and on bobs, a bold horizontal stripe on the last couple inches of hair. 
BLP: What is a hair tip you have for your fellow stylists? 
JK: Not so much a hair tip, but a social media business tip: Happiness is infectious. When you have a client who is beaming because they love their hair, ask them to post their own selfie (not the posed picture you created) and ask them to tag you. People are drawn to that radiating, happy and confident energy, and they will want that for themselves. It will expose you to new potential clients, and it's the best type of review.
BLP: What inspires you?
JK: Random things. Recently, I watched the makeup show "Glow Up." One of the contestants created a green and magenta pink look, which reminded me of '90s colors. So, I convinced my friend to let me color his hair those colors.
BLP: What do you love about your work?
JK: On social media, I would say originality. Good or bad, I don't have a niche. I can turn out the crazy colors or keep it conservative. My posts or Reels don't look like a copy of others.
BLP: What motivates you about the industry you are in? 
JK: Being creative, social media and a love for photography. I went through a bored and burnt-out phase right before quarantine, and what got me out of it was focusing on hair projects. My favorite is when I get to combine hair with creative photography or video concepts. Whenever I finish I think, what's next?
BLP: What is a professional goal you have for yourself? 
JK: A brand deal, lol! 
BLP: Who is a role model you have in the industry? 
JK: Linh Phan has this cool way of refining creative color and cuts and getting an amazing image out of it. His career has skyrocketed. It is inspirational to see his growth on social media.
BLP: What is your favorite career-/work-related memory from this year?
JK: Honestly, it would be this article. In 2021, I started to take my social media more seriously, and in doing so, my account grew a bit. My confidence in hair and new techniques grew as well. I was reposted a few times, and new clients found me. But, being on the smaller end of social media, you don't get a lot of visibility, so to have a magazine like Beauty Launchpad want to put me on their pages feels amazing. Thank you!
To see our full spread for this year's 25 Under 50K recipients, you can read Beauty Launchpad's November/December 2022 digital magazine.