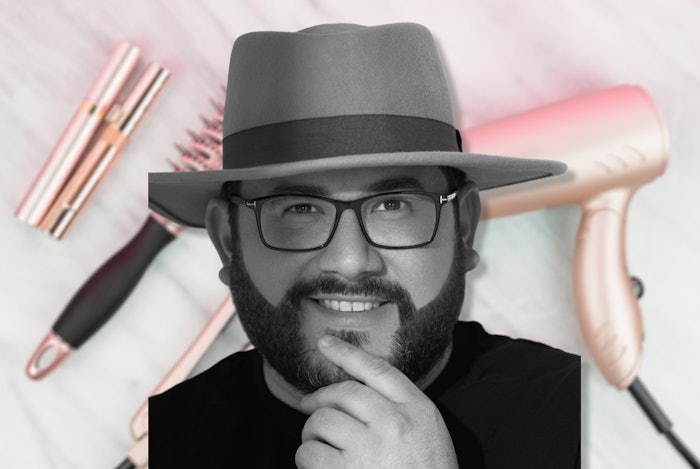 courtesy of @louislopez07
Over the course of the month, we will be spotlighting the winners of Beauty Launchpad's 25 Under 50K for 2022.
Here, you will get to know Louis Lopez. Lopez is a hairstylist at Kaleido Salon in Houston. In his Q&A, you will learn his favorite hair trends, a fun fact about him, his proudest accomplishment and more. 
Beauty Launchpad (BLP): What is a fun fact about you? 
Louis Lopez (LL): LOL my Chewbacca impersonation! 
BLP: What is your proudest accomplishment? 
LL: I would have to say this very moment. 
BLP: What is your current favorite hairstyle trend? 
LL: I always love a good wet look. 
BLP: What is a hair tip you have for your fellow stylists? 
LL: I have a few. When going for a wet look, after you apply your gel and it sets, try mixing hair oils in a spray bottle with water. To keep locks staying moist, you can also use sunblock spray (not on extensions) to get an extra-wet look. Another tip: When you're on set and you want to set your curls, try misting the hairspray through a netting to help diffuse and set your curls. 
BLP: What inspires you? 
LL: At the moment, using AI—speak a few words and the options are endless for inspiration! 
BLP: What do you love about your work? 
LL: I love when sessions are fast-paced and constantly evolving.
BLP: What motivates you about this industry? 
LL: Actually, my peers, especially if you have a good group to bounce ideas off of. 
BLP: What is a professional goal you have for yourself?
LL: At one time, it was to make it to the finals for the North American Hairstyling Awards (NAHA). Now, I want to master photography to capture what I envision in my head and also be a part of Fashion Week. 
BLP: Who is a role model you have in the industry? 
LL: I love seeing what these artists create: Angelo Seminara, Eugene Souleiman and Sylvestre Finold. 
BLP: What is your favorite career-/work-related memory from this year? 
LL: Watching my yarn wigs that I made come to life. The team I had working on them is my go-to crew, and I felt the love we all put into the project. From the photography, makeup and models, it just flowed. 
To see our full spread for this year's 25 Under 50K recipients, you can read Beauty Launchpad's November/December 2022 digital magazine.