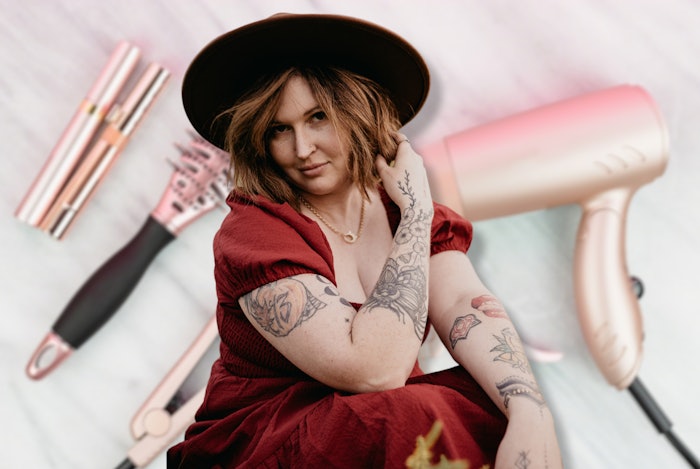 courtesy of @coloredbyliz
Over the course of the month, we will be spotlighting the winners of Beauty Launchpad's 25 Under 50K for 2022.
Here, you will get to know Liz Cook. Cook is a balayage and extension specialist at Lather Salon in Ogden, Utah. In their Q&A, you will learn her favorite hair trends, a fun fact about them, her proudest accomplishment and more. 
Beauty Launchpad (BLP): What is a fun fact about you? 
Liz Cook (LC): I'm a total horse girl. I grew up riding horses in the mountains of California on a small farm. 
BLP: What is your proudest accomplishment? 
LC: Building my business from the ground up. I started with $5 to my name and no clients. I worked my a** off, and in one year, I was booked out for three months, beginning my educator journey, joined the original RiotSquad, and grew from 1.2K followers to over 13K Instagram followers.
BLP: What is your current favorite hairstyle trend? 
LC: I love that balayage trends are becoming softer in appearance. The more subtle and natural colors with face-framing and '90s blowouts are killer!
BLP: What is a hair tip you have for your fellow stylists? 
LC: Don't just post a photo because you think it'll go viral. Post it because you love it, and it's your art. And, make sure that your camera lens is clean! As for a specific "hair" tip, get a good texture spray. It'll be your best friend! 
BLP: What inspires you? 
LC: Oh, this list is long! Ha! I find inspiration in nature: floral, textures, botanicals, colors, fashion, art, scents—all of it! Recently, the PNW vibes have been huge for me. I love the mystery of it and channeling the moodiness of the foggy woods for this fall/winter season.
BLP: What do you love about your work? 
LC: I love that my work features fluidity. I love movement, and I always want to showcase the client's hair in motion. I also love that I am unapologetic about my beautiful clients and their smiling faces.
BLP: What motivates you about this industry? 
LC: Connection, community and education. 
BLP: What is a professional goal you have for yourself?
LC: My goal for the rest of this year and next is to work on my work/life balance and not be burnt out. 
BLP: Who is a role model you have in the industry? 
LC: I have been finding and following some amazing people on Instagram. The role models I look up to? Jenny Strebe from AIIR (This woman has empowered me so much in the baby steps of my career), Shawni Fork, owner of Lather Salon (a kicka** owner and stylist), and I personally look up to the stylists I am surrounded by in my salon. They are all so talented, and I am so lucky to work alongside such creative people. 
BLP: What is your favorite career-/work-related memory from this year? 
LC: When I finally unpacked and moved into my salon home at Lather Salon in Ogden, Utah. It's my hometown, and moving back home feels so sweet. I felt so accomplished and had a huge sense of comfort. I found my salon family. Thanks, Lather!
To see our full spread for this year's 25 Under 50K recipients, you can read Beauty Launchpad's November/December 2022 digital magazine.