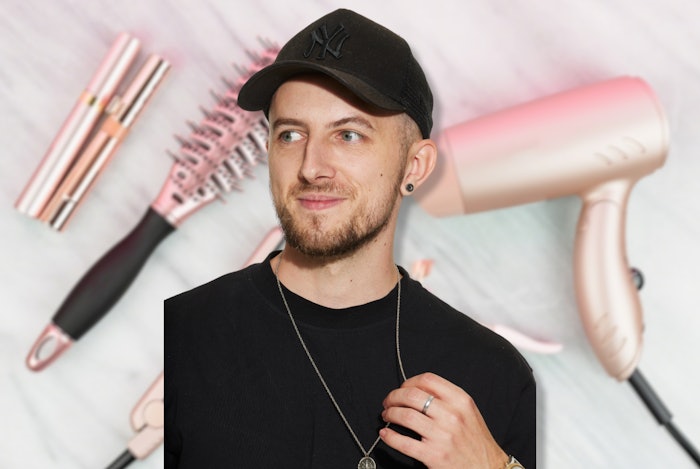 courtesy of @joshwoodmanhair
Over the course of the month, we will be spotlighting the winners of Beauty Launchpad's 25 Under 50K for 2022.
Here, you will get to know Josh Woodman. Woodman is a session stylist and artistic director at Eden Fairfield in Fairfield Park, United Kingdom. In his Q&A, you will learn his favorite hair trends, a fun fact about him, his proudest accomplishment and more. 
Beauty Launchpad (BLP): What is a fun fact about you?
Josh Woodman (JW): I will only have cheese on a pizza and nothing else.
BLP: What is your proudest accomplishment? 
JW: Ooh, I would say probably styling hair for the members of Bastille for a Rolling Stone magazine cover.
BLP: What is your current favorite hairstyle trend? 
JW: I'm currently loving that Pamela Anderson sexy big blowout.
BLP: What is a hair tip you have for your fellow stylists? 
JW: Make sure you always have references and mood boards on hand, so you are always ready to change things up and make it exciting—whether it be on a shoot and you have time for that one extra look, or maybe it's for a client who has had the same hair for years and wants to revamp themselves.
BLP: What inspires you? 
JW: How anything is possible with hair, and how much fun you can have with that. Kim K is a perfect example of how you can always reinvent yourself.
BLP: What do you love about your work?
JW: The ability to really change the way someone feels about themselves. I still see clients, some of whom have been through chemotherapy. So, being able to give them options on how to feel their best self is the best feeling.
BLP: What motivates you about the industry you are in? 
JW: How exciting it is to see new talent come through in the industry—being able to teach them to grow into the hairdresser they have always dreamed of being is such a reward!
BLP: What is a professional goal you have for yourself?
JW: I would love to head up my own show for Fashion Week! Or one day, do a Vogue cover, but that's everyone's dream, isn't it? 
BLP: Who is a role model you have in the industry? 
JW: James Earnshaw—I love that he ticks all the boxes, from creating must-have color to heading up shows at Fashion Week! Also, Luke Pluckrose—his work is so disciplined and flawless. 
BLP: What is your favorite career-/work-related memory from this year?
JW: I think this year has been incredible. I've been super fortunate to work alongside James [Earnshaw], and we've worked on some incredible shows around the world, but the one that blew my mind was doing a hair show for Wella in Athens under the Acropolis with 3000 people in attendance. It really was a pinch-me moment.
To see our full spread for this year's 25 Under 50K recipients, you can read Beauty Launchpad's November/December 2022 digital magazine.