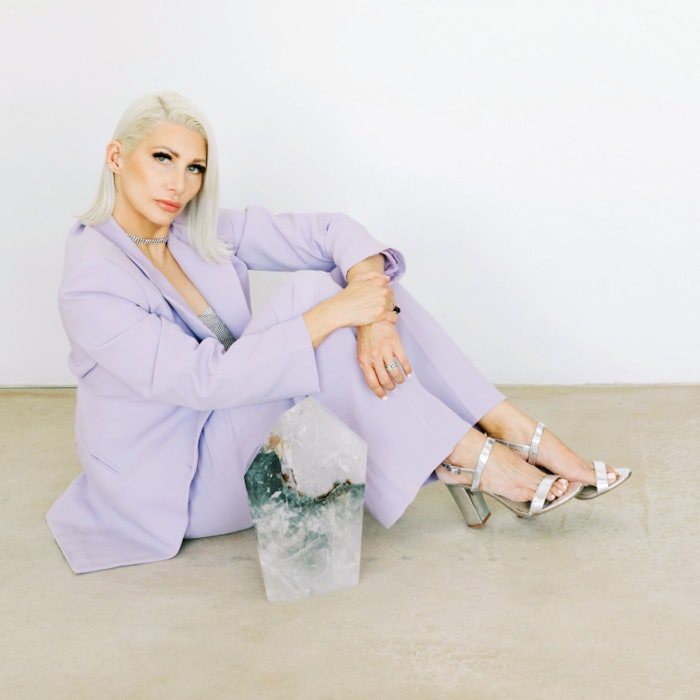 Photographer: Sara Bishop (@sarabeebishop); makeup: Effie Densber (@makemeupef);Hair: Lauren Wohlin (@l.a.dub); art direction: Alexandria Burkfield (@zandriadreamsbig);location: AIIR HQ (@aiirprofessional)
Can't Stop, Won't Stop
The Confessions of a Hairstylist queen Jenny Strebe bulldozes past perceived limitations, self-doubt and internet skeptics to soar as an influencer extraordinaire turned self-funded product founder.
Many stylists who reach the upper echelons of the industry appear as if their success came naturally, even effortlessly, as if destiny itself paved the path toward greatness. Jenny Strebe—owner, founder and acting CEO of AIIR Professional, and creator of the @theconfessionsofahairstylist social media dynasty—is quick to note that she is not one of those people.
"I always knew I was going to be a hairdresser. I was always the one giving makeovers to my friends for prom, and I enrolled in cosmetology school right after high school," Strebe recalls. "But being social and confident was not second nature—it was really difficult. I wasn't a natural teacher, either, and had to get used to being a public speaker. It was a long journey, but I never gave up and didn't take no for an answer."
Movin' On Up
Strebe's first challenge: The "dream salon" where she coveted a position passed on hiring her out of beauty school. So she moved from her home region in the Pacific Northwest to arid Arizona, where the salon had more locations and thus more opportunities. After landing a gig in 2002, she worked her way up the ranks while remaining vocal about her ambitious goals. "I showed up on time, assisted on fashion shows, and worked really hard," Strebe remembers. "But I found my passion in education after I had my daughter. She'd take long naps, and I'd be bored, so I started a blog to educate my clients while I was working only part-time in the salon. It later grew into a YouTube channel, teaching different hairstyles and techniques."
Since the blog launched in 2013, Strebe has built up a massive fan base—think 256,000 subscribers and 17 million-plus views on YouTube, and more than 436,000 Instagram followers. "Always inspiring, always educational" is the mantra she maintains for her videos, which post nearly every day to an estimated 60/40 split of stylists and consumers who devour her tips on techniques and products.
When considering her biggest career challenges, Strebe, a self-described natural empath, points to conquering her inner self-doubt. "I think it's natural, when you're putting yourself out there, to ask, 'Are people going to like what I want to say?'" she explains. "But my greatest qualities are being determined and pushing myself out of my comfort zone." Now, after so many years of experience developing a thick skin, she tells any stray haters online, "Bring it on!"
Taking Charge
Perhaps it was only a matter of time until Strebe dipped a toe into the product world herself—not as an influencer spokesperson, but as a manufacturer. With the goal of creating a line that was intentional, impactful, community-oriented and wellness-driven, she started working on AIIR Professional in 2016, launching with a single product three years later.
Investors dismissed her, claiming she had no proof of concept. Strebe, as usual, forged ahead, undaunted—the line was 100 percent self-funded. "I used my life savings and had $63 left in my bank account," she notes. "But I'd moved to Arizona with $800 in my pocket and lived off Top Ramen and hamburger patties for ages. I thought, 'I got this. I'm going to keep going and take it as far as I can.'"
The sole product, Texture AIIR, took off. Within a year, the line ballooned to eight SKUs, and it currently holds 20. All in a day's work for Strebe, perhaps, but she believes that anyone can achieve such stunning success. "Always push yourself and know you are worthy of any type of goal you want to achieve," she advises. "We all have crappy days and get told 'no,' so go even harder toward that goal. I truly believe that when one door closes, another door opens."
Reframing Rejection
Strebe has heard "no" throughout her career—from fresh out of cosmetology school, when rejected from her first "dream salon," to when she invented her product line, AIIR Professional, and some industry bigwigs questioned the logic of crystal-infused haircare formulas. "Believing and manifesting has gotten me to building a multimillion dollar brand while launching in a pandemic year, and my story in no way included a huge monetary advantage or a large amount of confidence in the beginning of my career—in fact, it was the opposite," Strebe relates. "When the first salon I wanted to work at didn't hire me, I felt sad and insecure, but I snapped out of it, gained my power back and decided if that was my real goal in life, I would need to find a way to obtain that success."
Strebe Shares Top Tips for Making Success Happen...For You
Strebe acknowledges that everyone experiences feelings of inadequacy—but, to become the highest version of yourself and reach your goals, it's crucial to learn how to turn negativity or rejection into success. Here, in her own words, she shares her top tips for making it happen:
Reframe rejection. I truly believe we have two choices: You can reframe rejection to be a positive and pivot into obtaining your goal a different way, or you can choose to be a victim. You won't become successful if you are constantly in your head about why you're not good enough. Instead, look at rejection as a redirection to an unknown path you may have not been led to otherwise.
Learn to accept rejection. Get in the mindset that something better is meant for you, and learn to be okay with pivoting to a different direction to obtain your goal. After my first rejection I moved to Arizona and applied for a job at the same salon chain, where I later got hired and went on to become an educational director, and eventually went overseas with them. Ironically, that initial rejection worked in my favor, as I would never have met my husband or had the same career opportunities I was given in Arizona. I slowly started, without knowing it, to build my story and my confidence in taking more risks—risks I may have not taken if it weren't for pushing past rejection and seeing it as redirection.
Use rejection as fuel. It may be easy to get angry at the person who rejected you, but remember that you attract negativity by emitting negative emotions. I believe you should use rejection as fuel, rather than wanting to prove someone wrong. Embrace the new self-confidence you may find from it. Use that as a way to reevaluate your efforts, get the advice or mentorship you need, and create a new plan if necessary. When our lab was unsure about using crystals in AIIR, I did my own experimenting and research to become an expert on the usages of crystals in all areas. I appreciated those "nos," as I wouldn't have done so much research otherwise. Remember, anything is possible when you take matters into your own hands.
Embrace change. Things are going to be tough if you want to pave your own way and evolve. Your goals and dreams may not come easy, but that's part of the process. Learn to embrace the rejections and ask yourself, "What is this teaching me?" Maybe you need to try a different way, simply fine-tune your skills, or pivot and learn something new to drive your goals in the direction you're aiming for. Just remember that failures aren't necessarily bad; they can push you to your limits, encouraging you to grow and change.