Laura Chihaia; Photography: Cristina Pelino; Dress Designer: Dora Sasu; Makeup: Sabina Karac and Sofia Ferguson
Hairstylist Lala Chihaia demonstrates three different special occasion styles, all starting with a single look on one model.
First Look: Boho Vibes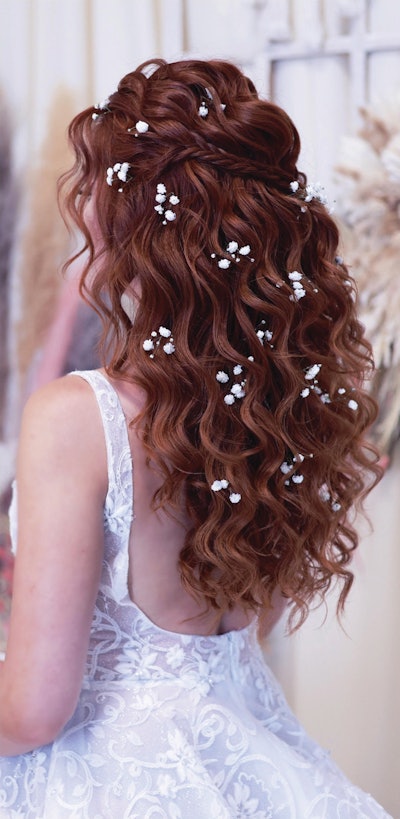 Start with the hair free of any product and texturize the strands using @lalastools Styling Prep Tool from roots to ends for extra volume, separation and lift at the crown area. The "crimping" creates a very strong base for curls and upstyling in general, making updos and curls last longer. 
Curl the hair with a one-inch wand, and tease the root of each section using a teasing comb for volume before curling.
Separate the curled sections into two or three smaller ones. Use a wax hairspray to set the curls, clean the flyaways, and add shine along with definition.
Grab a section of hair from the temple area, and braid the hair into a fishtail braid; repeat the same step on the other side, then secure the two braided sections above the occipital bone, framing the crown area through a bold symmetric braid and adding a boho vibe.
To complete the boho look and give it a more dreamy feel, place a few baby's breath flowers into the hair.
Finish the style by setting the look with non-aerosol strong hold hairspray.
Second Look: Darling Vibes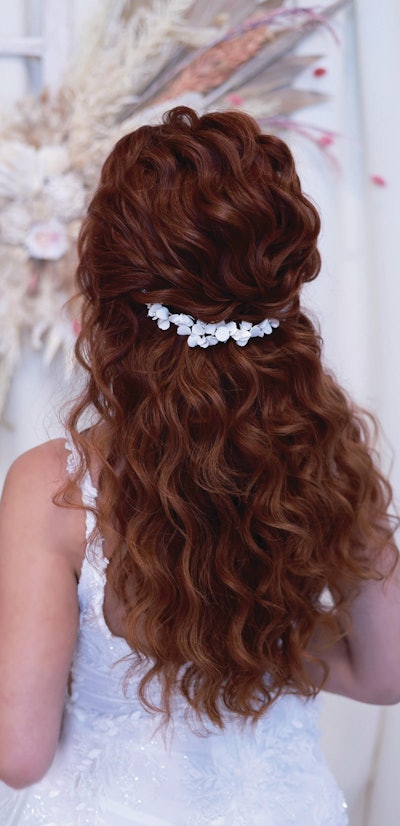 Moving on, open the two side braids and curl the sections again.
Pin the crown hair area below the occipital bone for a more free, organic look.
Add some contrast in the hair to complement the dress and bring a darling, sweet vibe to the hairstyle.
Third Look: Romantic Vibes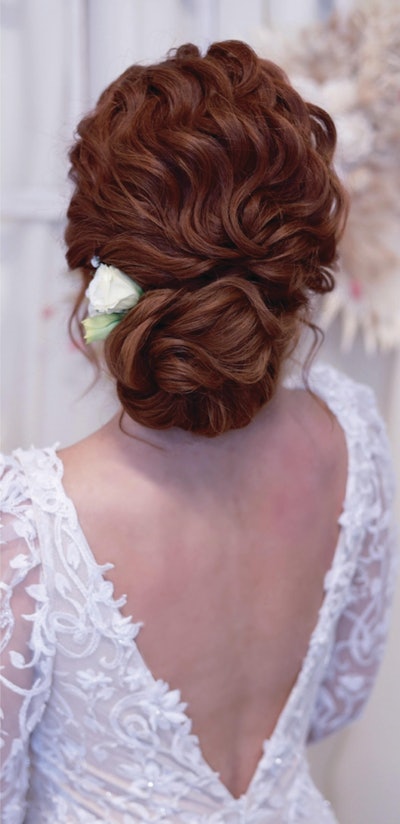 The crown area is already pinned below the occipital bone from the previous style, and all the hair is swept back for a relatively natural look.
Secure all hair into a low ponytail.
Using a teasing comb, gently fluff the ponytail to create more volume. Then, with a circular motion, gently twist the ponytail and start pinning clockwise.
Finish setting the style with non-aerosol strong hold hairspray.