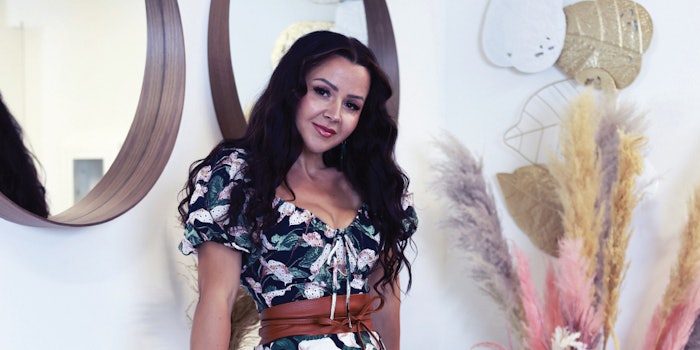 Photography: Cristina Pelino; Dress Designer: Dora Sasu; Makeup: Sabina Karac and Sofia Ferguson
We've heard about the "bathroom floor" moment—that crossroads breakdown when all hope seems lost. But in the stylist's world, or at least in Laura Chihaia's, that moment took place in a salon back room instead, as her daughter wailed against yet again being forced to watch Mom work. It was eight years after Chihaia had relocated to America, dreaming of a better life, but all she'd found was a three-job juggle, endless brick walls and crushing self-doubt.
"Instead of comforting my daughter, I ran to the back room and threw myself on the floor," she remembers. "I told God [...] He needs to step in, because I'm about to give up. I promised that if He helped me make a living from hair only, I'd tell everyone sitting in my chair how He turned my life around." Miraculously, her call was answered.
Coming to America
Growing up in Romania, Chihaia and her family languished under communist rule, under which everything was rationed—food, water, electricity—while parents worked long shifts away from home and closed borders prohibited outside access. "I remember sitting in a field of dandelions blooming in front of our block every spring and blowing them until I ran out of breath, wishing one day I'd make it to America and escape that hardship," Chihaia recalls. "My brand logo has a dandelion on it because of a lot of those wishes came true."
However, it wasn't an easy or straightforward path to success. Chihaia legally arrived stateside in 2006—landing in San Francisco with a small suitcase, a few hundred dollars in her pocket, a one-and-a-half-year-old daughter and big dreams. She snagged an apartment property manager job to keep a roof over their heads and enrolled in cosmetology school in 2008, doing hair and nails in senior citizens' homes on weekends.
"Some days, I had nothing to eat and would wait for weekends to go to the senior houses to steal food from the fridge and have some bites of food in my stomach," Chihaia reveals. "I worked three jobs for nine years with no days off [and] no vacation, raising my daughter in the places I worked morning to night and barely meeting our needs." By 2014, her daughter reacted against this routine—and Chihaia found herself on the floor, begging God for better.
False Starts
Two weeks later, one of Chihaia's clients requested a wedding 'do when her original stylist canceled. Though Chihaia was a self-proclaimed "cut and colorist" with absolutely no knowledge of styling, she took the job and passed a trial run—only to have the client change her mind the day-of. "I ended up creating a mess using heavy product and made her wash her hair in the hotel room, ruining her makeup and making her two hours late for her wedding—by trying to create something that was completely out of my comfort zone," Chihaia admits. "I promised myself I would never, ever again try to do bridal hair."
But Chihaia was so haunted by her failure—and about ruining someone's big day—that she decided to buy a mannequin and attempt to re-create the failed wedding style. That failure became the beginning of her bridal styling career. With few upstyling tutorials on YouTube and no money to take classes, Chihaia experimented on the mannequin, eventually coming up with techniques by accident, simply through curiosity and the excitement of discovering a new creative side she never knew she had.
Another seemingly lost opportunity turned blessing in disguise followed when, later that year, her boss proposed a promotion. Chihaia declined the offer, explaining her styling dreams, and her boss proclaimed the importance of an Instagram account with pictures of her looks (then done on the mannequin and her cousin's hair as a hobby). "She opened my IG while we were having lunch and taught me about posting, hashtags, everything," Chihaia shares. "She handed the phone to me and said something I will never forget: 'Mark my words: By the end of next year, everyone will knew who Lala's Updos is.' It took one person to believe in me to make me believe I could do it." Two months later, Chihaia was helming a 13K following and got her first offer to teach a local class. The only problem: She wasn't yet a bridal hairstylist.
The Bridal Boom
In 2016, Chihaia was offered an opportunity to be part of Butterfly Circus education, alongside some of the biggest names in the industry, to teach in front of a larger audience. "Brands started to reach out and offer collaboration or ambassadorship opportunities, and only then I realized: This is not a hobby anymore, and I need to invest all of my time and energy into it," Chihaia explains. "I started practicing two to three hours every day to understand the art of upstyling. I got offers to represent brands on the big stages, got my work and story published in industry magazines, became a member of the Cosmo Prof artistic team, and got my name, work and brand recognized nationally and internationally."
In 2019, Chihaia started focusing more on building her brand, Lala's Updos. She also worked on creating her own styling preparation tool for two years and successfully launched in 2020. Meanwhile, education became her biggest passion—helping hairstylists all around the world work smarter, not harder, through techniques she invented, simplifying the art of upstyling and making students fall in love with the craft. Last February, she opened her Bridal Academy in Fort Lauderdale, Florida, and also launched online bridal education.
"Looking back, I see God keeping his side of the deal, blessing me beyond my imagination [and] giving me a huge platform to share my journey and my talents while turning all of my dreams into reality through hard work, determination and the decision to step out of my comfort zone," Chihaia muses. "I was told over and over again 'I should not go to school. I should be home with my kid. I'm not a good mother. I will never make it. My English is not good enough. I'm not pretty enough or skinny enough to make it.' I had doors closing in my face and opportunities taken away; I was discouraged by many and supported by no one. But I kept chasing my dreams, one by one, and turning them into reality."
Lala's Dos
Laura Chihaia offers her top tips for fellow beauty pros, in her words:
Get educated as much as possible. Assist someone before you test the waters yourself—you can advance faster and more easily in your career by having a mentor, instead of trying to figure things out on your own and wasting your time and money, like I did.
Learn everything about social media platforms. Use every free resource you can access—to build your clientele and career, get educated, get inspired, get exposure and get noticed.
Above all, figure out your passion, vision and purpose, and work toward that like your life depends on it—without letting anyone convince you otherwise.