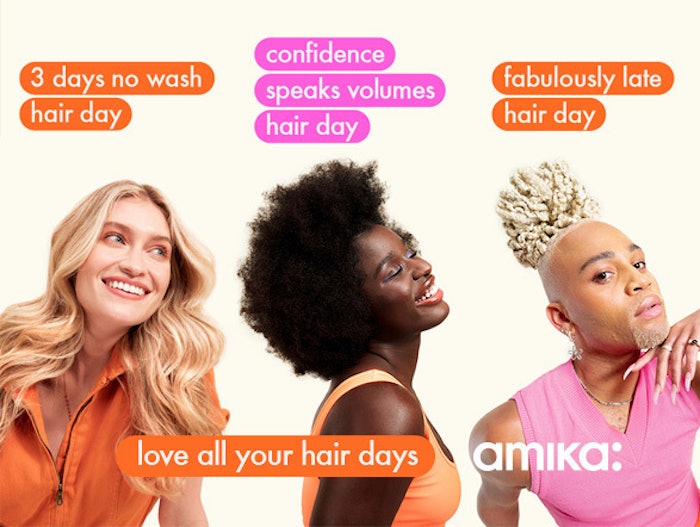 Courtesy of amika
Brooklyn, New York-based hair care brand amika has announced the debut of "Love All Your Hair Days," a campaign emphasizing individuality, self-expression and the power of great hair.
The campaign launched with 360-degree digital marketing and advertising initiatives, along with static and video billboards in Los Angeles.
The campaign provides a relatable approach to the emotional aspect of hair care and styling, as it spotlights individuals paired with messaging of a relatable "hair day" scenario. 
"What inspired us to create this campaign was amika's wide range of products, the overwhelming reviews coming from their community and their commitment to inclusion and diversity. The insight was simple: We all have great hair days once in a blue moon, but with the right care, we can learn to love all our hair days," says Andrea Erali, senior art director at RXM Creative.
Some of the talent featured in the campaign images and video include model and disability advocate Bri Scalesse, 26, Elizabeth Sweetheart, 74, known as the Green Lady of Brooklyn, and other unique individuals.
"'Love All Your Hair Days' carries on amika's fierce commitment to inclusivity, representing people of all ages, ethnicities, backgrounds, abilities and more. The name amika means 'friend,' and like a friend, our products are straightforward and dependable, while also being fun," shares Vita Raykhman, creative director for amika. "Both the brand and 'Love All Your Hair Days' are so relatable—there are no unattainable ideals. The campaign empowers people to have fun and accept their hair, no matter what sort of hair day they are having."
The campaign was shot on film by photographer/director Anisha Sisodia in tandem with director of photography Steven Mastorelli.
Check out the campaign video: