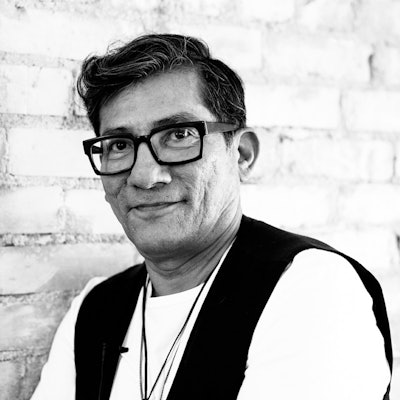 It's that time of year, the end of the year — now what? I usually reflect on what my motivation for entering into the world of the beauty was at this time of year. Was it artistry, professionalism, glamour, money? Answer that question and it will keep you grounded for the next year. You know, the average stylist only stays in our industry for about 18 months; sad, isn't it? I often wonder what their intentions were — did they keep their original goals in mind and work toward them or change to adapt to the market? Every year's end I think about what I am going to change — my thinking, the way I speak, teach and do things. I want it to be different every year so I continue to grow and develop myself in this amazing industry.
Sometimes, life is just a natural progression of the previous year, but it is within your control to change that. Think about "change" — it's created by letting go! A new year is around the corner, so let go! The past is where we learn and the future is where we apply it.
Next year there will be many changes in hair. Embrace them, and you will continue to evolve in your craft. The haircut is back with a renewed love of cutting, incorporating clever structural lines to create interesting surfaces that can be tailored to any design. There will be contradictions that attract attention and add intrigue to looks as the method of layering continues to evolve with detached, irregular patterns and clashing, fractured layers that are tiered back to front and top to bottom.
There will also be a rebellious, urban feel as looks move from the inner city to the suburbs. It's all about practical and functional results as silhouettes continue to dip into simplicity, mirroring the new lifestyle of the youth movement who seek personal connection in all they do.
What will keep relatable looks like the shag, bob, or pixie connected to the present are designs that have a familiar ring, with softness and modern silhouettes that are loose and inflated for a sense of leisurely ease. Yet, the simple has become more complex when it comes to finishes, with subtle attitude that makes hair come alive. Textures will have a clear connection to nature — organic and natural looking, even though they will often be created with advanced techniques, products, and tools.
Is the braid parade over? On the contrary, it's turned into a braid block party. Again, the sensibility of the street has inspired a turn towards tighter knots and plaits that hug the head, moving into highly contrasted organic textures living side by side in harmony.
Make 2017 about exploring the relationship between modern and historical techniques; remix the old with a splash of new for fresh looks that excite both you and your guests.
I know change is scary, but in the long run it's valuable, and with patience and understanding, we can learn and grow together. All of us crave understanding and respect, no matter what our age, education or experience. Strive to be part of a team that accommodates the working styles of every teammate and fosters education and growth. And, think about it, you change your clients all the time, but do you change yourself often enough? It's crucial to staying in this business. The outer and inner self should constantly change to stay current and interesting. Change seasonally with fashion and let go of beliefs that limit you. Sometimes we become fearful of change, but staying within our comfort zone squashes our growth potential. There is DANGER in the comfort zone, so keep one foot in and one foot out to continually challenge yourself.
You affect your destiny every minute of every day — YOU can choose to have fun, learn and become better, or you can just do more of the same. What do you want to change in 2017 to cultivate your career? Change can sometimes be painful, but it is also very eye-opening and rewarding. At Sam Villa, we are inspired by connecting with the salon community to help them change and grow, and pledge to be a resource for ideas, people, education, tools and support in 2017!
Happy holidays, and to all, a prosperous new year!
-Sam