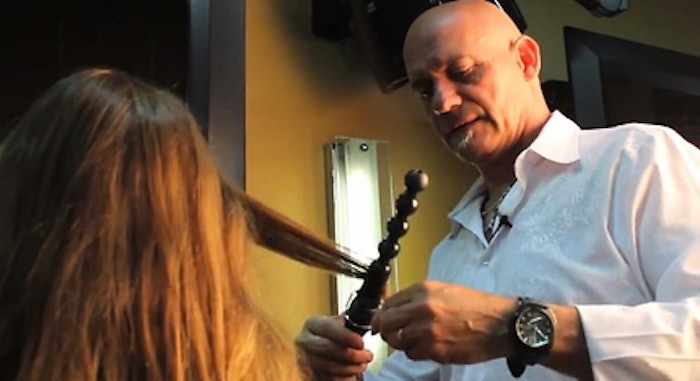 Even when it is not summertime, the "beachy" curl look is one that many women like to sport—it's sexy, a perfect balance of classy and messy, and conveys a carefree, irresistible spirit. Achieving this hairstyle takes a little time and effort, but the end result is spectacular.  Simply follow these guidelines:
Apply flat iron spray. This will help to maintain moisture, protect the hair and extend the life of the set.
Alternate curling hair in opposite directions. Divide the hair into one-inch sections. Alternate curling each section of hair away from the face and toward the face.
In the back, divide hair into two more sections. Divide hair into two additional sections, top and bottom. This helps to ensure that hair is curled evenly.
Finger comb hair to separate curls. Use an upward motion, moving hands up higher as you separate curls. Let the curls fall loosely.
Pull sections of hair apart. To add more volume, take small sections of hair and pull apart (see video link at the end for a demonstration of this process).
Spray anti-humidity seal. This helps retain the look especially in hot, humid weather and fights against frizz.
Spray wax. A wax or texturizing product all over the hair will help create the messy, undone look of beachy curls. Lift handfuls of hair, then drop to help set the wax and add more texture.
What emerges will be an appealing, flowing set of loose curls that will last as long as the wearer keeps the hair dry. -Douglas Carroll Salon
Related:  Bridal Hair: Douglas Carroll Salon To Celebrate 25th Anniversary with Southern Bride And Groom   |  Hair Style How to: 6 Steps to a Bouncy Blowout with Curl Up in Silk  |  WATCH: Paul Mitchell's Robert Cromeans Talks Curls  |  WATCH: John Paul DeJoria and Angus Mitchell Discuss New Curls Line  |  WATCH: Scrimping and More Curl Techniques  |  Five Summer Tips for Curly Hair  |  Olivia Wilde's Summer Waves