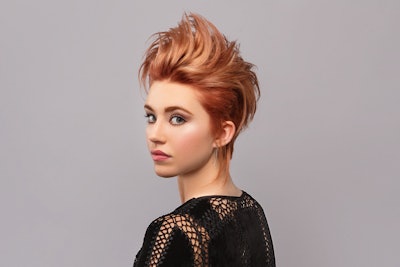 There's a rebellious, urban feel as the look moves from the inner city to the suburbs. It's all about practical and functional results as silhouettes continue to dip into simplicity mirroring the new lifestyle of the youth movement seeking personal connection in all they do.
The past is where we learn and the future is where we apply it.  What keeps relatable looks like a shag, a bob, or a pixie connected to the present are designs that have a familiar ring but have a much softer look and a modern silhouette that is loose and inflated for a sense of leisurely ease.  The haircut is back as we return to the craft of haircutting with clever structural lines to create interesting surfaces that can be tailored to any design.  Imagine contradictions that attract attention and add intrigue to the look, as the method of layering seems to continue to evolve with detached irregular patterns and clashing fractured layers that are tiered back to front and top to bottom. 
And yet, the simple has become more complex when it comes to the finish as its subtle attitude's that make the hair come alive.  Textures have a connection to nature.  They are organic, naturally occurring textures even though they are often created with advanced techniques, products, and tools.
Is the braid parade over? On the contrary… it's turned into a braid block party.  Again, the sensibility of the street has inspired a turn towards tighter knots and plats that hug the head moving into highly contrasted organic textures living side by side in harmony.
At Sam Villa, we are inspired by the quest for connection and pledge to be a resource for the connection of ideas, people, and the salon industry.
[Images: Sam Villa]