It's been almost 7 years since I began my role as the Director and Buyer at Mills Pharmacy + Apothecary. Some of my preconceived ideas about the beauty buying habits of women have shifted in certain ways, but the journey into the world of Men's Grooming, has been genuinely enlightening….and a welcome challenge. It's not like personal care products for men were just invented, but by modern day standards of what passes for grooming, they may have been overlooked for a while.
Mills Pharmacy opened in Birmingham, Michigan in 1946, by a pharmacist named Thomas Mills. In the old black and white photos that illustrate the specialty retail model of a by-gone era, the store had a soda fountain, well-dressed clerks, lovely ladies at the cosmetic counter, and a vast array of sought-after European and American brands of makeup and fragrance. The products were exotic, yet completely accessible, right here at the neighborhood pharmacy.
In 2010, the Mills family sold the business to brothers Pierre and Hany Boutros, who are both pharmacists. They wanted to recreate Mills Pharmacy with a nod to the style and sophistication of the European model. I came on board to lead the transition and we reopened Mills in 2011 to include the new Apothecary concept.
Nationally, the men's grooming category began to make major strides with the resurgence of mainstream brands like The Art of Shaving and the non-shaving, hipster beard craze, but the mid-west was slower in taking on these trends. When we opened the apothecary, we stocked tried-and-true men's personal care brands and fragrances like Jack Black, 4711, Lucky Tiger and Caswell Massey. At first, we were only successful in selling core products like shaving cream, after-shave lotions and a few fragrances. Most men just didn't want what they perceived to be a fussy routine.
I really wanted this category to do well at Mills, because I wanted to make sure that all of our visitors knew there was something here for everyone. I started to seek out other brands that really spoke to the male consumer, were friendly, easy and made with their interests at heart. The next wave of products included brands like Recipe for Men, a Swedish brand created for cold weather skin and the outdoors. We already stocked Edwin Jagger razors and shave sets for the store, so I simply added their specialty skin care, and the guys really seemed to trust a well-known shave brand.  I then began looking for brands that specialized in men's skin care, but had more to offer in terms of types of fragrance or even body care; I found a U.K. brand called Bath House, whose scents and knack for presentation seemed to resonate with both men and women. Santa Maria Novella is about as classic as they come, but draws a very small and dedicated consumer for their fabled Tobacco Toscano Shaving Cream.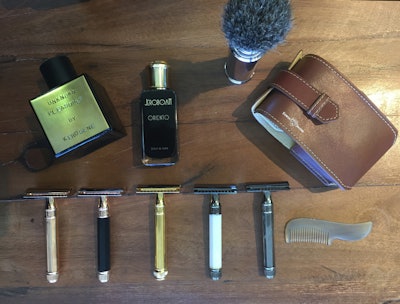 There are thousands of products out there that are on trend but don't fit with our brand and the philosophy we abide by. I want brands that our customers can and will remain loyal to, year after year. My goal became to search for items that were at once completely unfamiliar, but could hold their own in the world of specialty products that we had created; products a man educated in the art of wet shaving could share with his shave club and new exotic products to introduce to the guy who just won't use anything but a shaving foam.
We wanted to stick close to home and found that some of these specialty products were being thoughtfully produced right here in the Detroit area. While balms and fragrances are made everywhere, I found these local, independent brands were of a very high caliber, made with top ingredients and attention to every detail. We found brands like Beard Balm Brand, Sfumato, Burton + Levy, Old Woodward Shave Company, and Kerosene Fragrances and have built a strong relationship in hopes of supporting our local businesses.
When I walk into either of the stores these days, I am thrilled to find so many more men are growing to be connoisseurs of fine personal care products than ever before. I take note that there is ease in our knowledge and an ability to help them find something unique and effective for their needs, along with a confidence in their knowing exactly what they want and like.
Just like the old black and white images, modern day men can walk into their neighborhood pharmacy for products that enhance, not only the way they look, but also the way they feel.
Rita Sayegh
Retail Director and Buyer at Mills + Apothecary