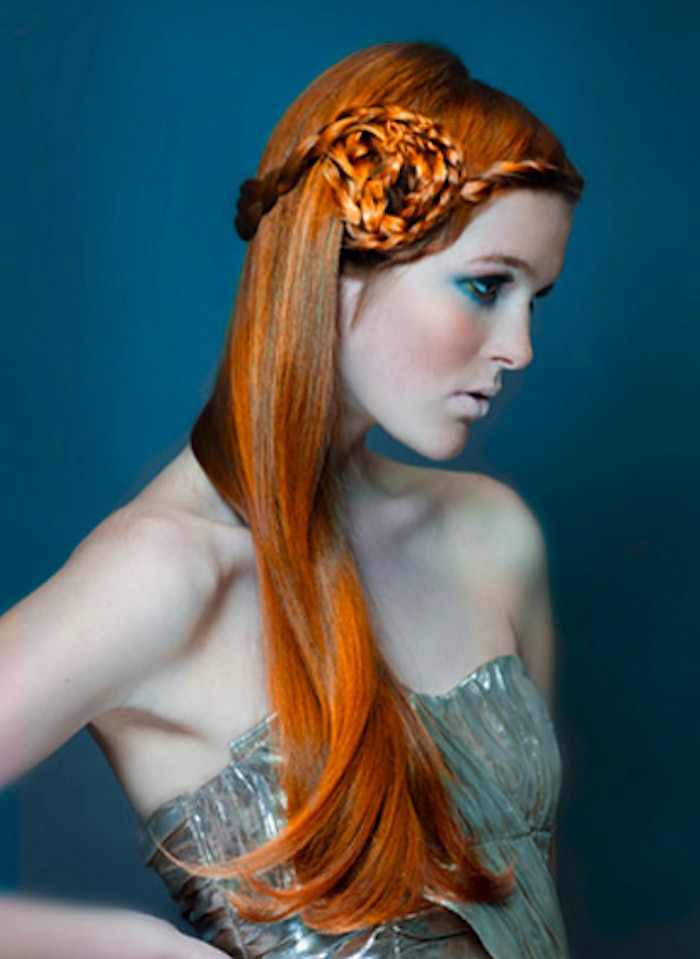 1.     I recommend choosing the correct hairstyle for your hair texture. Your wedding day is such a special day in your life and a time you want to look and feel your absolute best. This is not the time to worry about your hair falling flat. As a professional hair and makeup artist, I like to take this time to accentuate the person's best features. Choosing the right hairstyle for the hair texture is paramount.  To make your day stress free, I suggest working with your natural texture. For those with naturally curly hair-- opt for a romantic curly style. For those with straight hair --- your obvious choice is to shine with a sleek and smooth style. Play up what Mother Nature gave you don't fight against her.
Hair & Makeup: Sherri Jessee
Photo: Roberto Ligresti
2.     The wonderful thing about trends today is that fashion is so individual. Choose a style that brings out your personality. Are you classic, romantic, bohemian, natural, or avant garde? Your dress, hair and makeup should be carefully chosen as an outward refection of who you are as a person. Next, your hair and makeup should compliment your dress. For example, if you have an intricate neckline, perhaps you want to show it off by wearing your hair in an up-style. 
3.     There are so many amazing headpieces to choose from. I personally love the idea of using vintage jewelry like seen in this photo with my grandmother's antique pearls. Once again, I do stress the importance of using fashion to make a statement . The use of accessories is a perfect way of topping it off. An etherial veil, a stately tiara, romantic flowers, glittering barrettes or small, chic hat could be the finishing touch needed to create your special look.
Hair & Makeup: Sherri Jessee
Photo: Roberto Ligresti
4.     Choosing the best hairstylist for your wedding day is almost as important as choosing your dress. If by chance, your usual trusted professional stylist is not available for your big day, you will need to find the perfect one to suit your style. It is well worth the investment of time and money to go for bridal hair trial sessions to collaborate ideas and perfect the look you desire.
Hair: Sherri Jessee
Photo: Roberto Ligresti
5. For the groom, take the work "groom" to heart. Have a fresh hair cut days before the event so that a bit of gel or smoothing creme can keep your mane tame. RUSK Being SEXY has a fabulous new shampoo, conditioner and gel which would be a great choice.
 A few extra tips to complete your worry free look. For a special treat, you should also have your makeup professionally applied. A few essentials are:
1. Foundation applied with an airbrush will create a durable, flawless finish. Temptu has a nices ones geared for profession or personal use. 
www.temptu.com
Hair: Amy Lauren
Makeup: Sherri Jessee
Photo: Roberto Ligresti
4. For nails that will last through the ceremony and then to the end of your honeymoon, opt for long wear nail glaze like Creative Nail Shellac. 
www.cnd.com/Products/Color/shellac-intro.aspx
5. If you don't have the length or thickness you need for the look you desire, don't fret! Simplicity Hair Extensions can be applied by your salon professional in under an hour. This unique system uses top quality human hair with a special adhesion process that is fast and damage free. 
www.tressallure.com