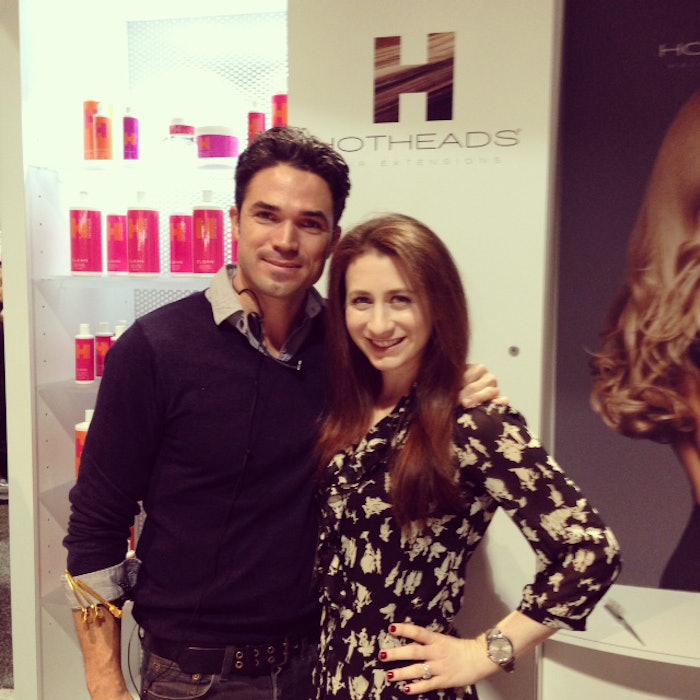 I admit it: I have a tendency to get stuck in a beauty rut. My morning routine consists of lightly misting my hair with spray to stave off the effects of humidity. That's it. I haven't even colored my hair beyond a demipermanent gloss. Yet for quite some time now, I've wanted to do something different…
Thus, I began to weigh my options. An ultra-chic bang, perhaps? Nope. My hair is naturally curly with a tendency to frizz, and though I would have loved to sport the bangin' look seen on countless spring/summer runways, I just couldn't commit to constantly checking my fringe for smoothness. Perhaps I could cut my hair into an edgy short 'do? No again. If I were to wear my hair curly rather than stick-straight, I did not want to battle the increased poof-factor that a shorter style might bring.
Enter: Hotheads Hair Extensions (hotheadshairwear.com). Incorporated into my hair for increased body and a tad more length, the taped extensions were just what I needed to change up my look in a subtle way, allowing me to essentially retain my style, but with a bit more of that "oomph"-factor! Plus, it hasn't added minutes to my morning beauty routine—a major plus when dealing with SoCal traffic during my daily commute. I am officially in love with my reinvented locks…me and Hotheads extensions are simply meant to be.
Till next time!
Alyson Osterman-Kerr