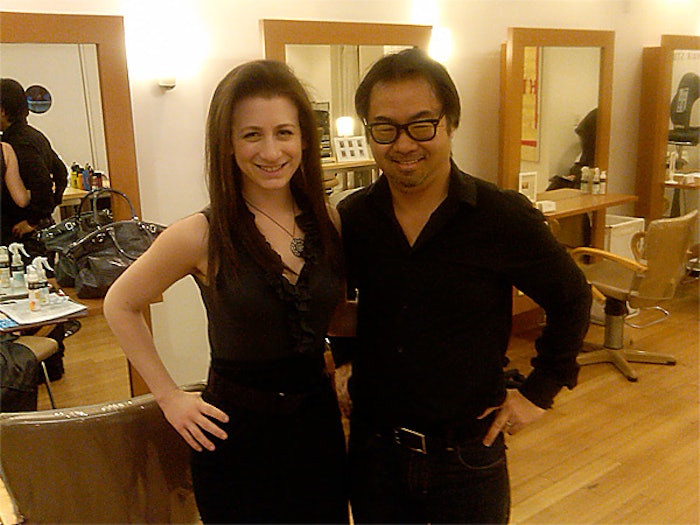 I was recently given the opportunity to have master stylist Yoshi Hagiwara tend to my tresses at his eponymous studio in Beverly Hills, California, where I was to experience his signature fortifying hair treatment as well as a blow dry. As soon as arrived to the salon—which features a blow-out bar for time-crunched clients—Yoshi was immediately able to ID my mane as "keratin-treated." What did this mean exactly? Yoshi explained that he would be unable to perform his signature strand-strengthening service on my hair because it would open up the cuticle, thereby possibly compromising the integrity of my keratin treatment. Though disappointed that I wouldn't be able to try out his treatment, I was extremely impressed with Yoshi's quick hair diagnosis and honesty. I have visited other salons while having the keratin formula in my hair, and have never met anyone so forthright about the possible adverse effects another treatment may have on it.
Yoshi exemplifies one of the attributes clients most look for in a stylist: honesty. A client has to trust her stylist in order for a relationship to form. If you say she'd look dynamite as a redhead, she needs to be able to trust that you are indeed looking out for her best interest. If your client asks that you lighten her brunette locks and you think this may not be the best look for her—yes, the decision is ultimately up to your client—but you can present her with other options that, if she trusts you, may make her reconsider her choice.
I not only left Yoshi's salon with a fabulous blow dry, but also with the knowledge that Yoshi wanted what was best for my hair—and me. This'll keep me coming back for more. Honesty really is the best policy.