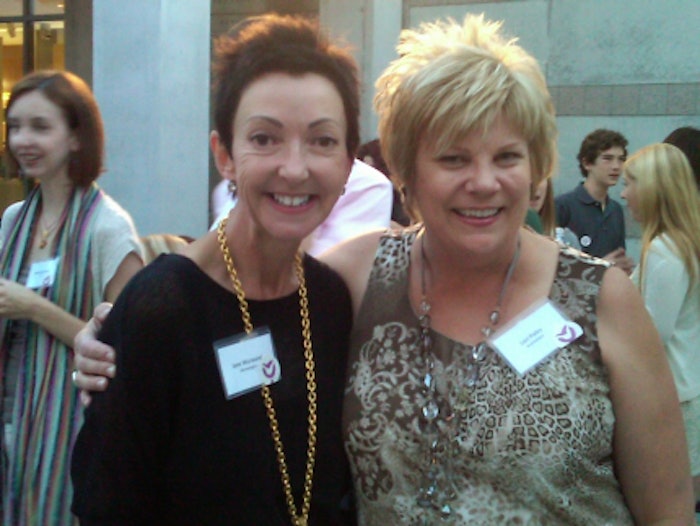 Dermalogica founder/CEO Jane Wurwand and SoCal-based Aromatique Skin & Body Care founder Lori Paley
Last Sunday, I attended the Dermalogica/FITE-sponsored "Women Hold Up Half the Sky" exhibit at the Skirball Cultural Center in Los Angeles. The exhibit-- which featured documentary photographs, visual art and interactive opportunities for visitors to help women across the world (I sponsored a female entrepreneur in Africa!)--sought to address gender equality. Seeing photos of these women in other countries, who are not afforded the same opportunities that many of us have been blessed with in America, was extremely moving. Perhaps even more moving, however, was Dermalogica founder/CEO Jane Wurwand's address to her audience to get directly involved in this cause:  "These women aren't any less bright than us, nor do they have any less ambition. What they don't have is an opportunity." Wurwand then went on to quote Madeleine Albright, truly driving the point home to her already stirred crowd: "'There's a place in Hell reserved for women who don't help other women.'"
Me (LP senior associate editor Alyson Osterman-Kerr) and Dermalogica's Nathalie Banker
Visitors stroll through the "Women Hold Up Half the Sky" exhibit.
Related: Dermalogica "Steps Up" and Receives Recognition at Annual Inspiration Awards   |  Founder of Dermalogica Speaks at the United Nations on Investing in Women and Entrepreneurship  |  Dermalogica Preps Skin for Next Installment of "Twilight" Saga  | Dermalogica Flashes Forward |  Dermalogica Partners with California's Leading Beauty Industry Brands to Host Exclusive Glamour Suite for Nation's Top Bloggers