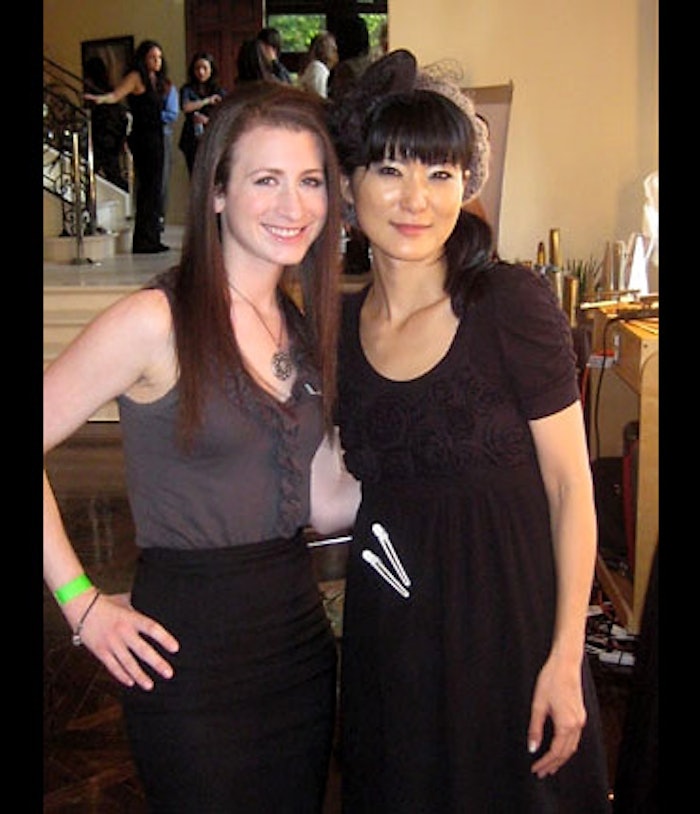 Me and Gavert Atelier salon's wonderfully talented Mika Fowler (Hospitality Suite)
The Golden Globes may have come and gone, but the memories I've made from the amazing beauty professionals I met at the Los Angeles-held Secret Room Suite, GBK Gifting Lounge and Hospitality Suite are ones I'll never forget! True, star-gazing is always super-fun (Jennifer Love Hewitt looked adorable as always!), but even more than that, I loved getting the skinny on the newest product launches from Number Four High Performance Hair Care, Joico, RevitaLash, Jessica Cosmetics, Xen-Tan and many other top pro-beauty companies (which we'll definitely keep you posted on in upcoming issues of Launchpad!).
A day spent mingling with the industry's elite? Totally golden!
Joico celebrity stylist George Papanikolas tends to reality TV vet Shar Jackson's mighty-long mane! (Hospitality Suite)


Fashion expert Steven Cojocaru and Joico associate communications manager Guillermo Guereque (Hospitality Suite)
Number Four High Performance Hair Care PR guru Janae Raphael and The Blind Side's Quinton Aaron (Secret Room Suite)