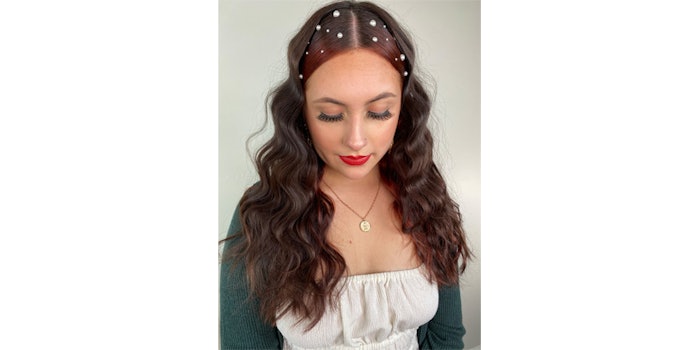 courtesy of Sam Villa
The headband illusion hair look is trending all over social media right now.
Ellen Devine, Sam Villa ArTeam member, has created the headband illusion style, but with pearls!
Devine ordered the adhesive pearls in multiple sizes from Amazon and used a Sam Villa Pro Results Single-Waver to create the fun hairstyle.  
Get the Look:
Take a diagonal section behind an ear with a tail comb, brush vertically with a Sam Villa Artist Series Finishing Brush to smooth and make hair slick and tight. 
Rub Cult + King Balm in hands and apply to smooth flyaways and add grip for the pearls. 
Tuck section over the ear, mist with soft-hold hairspray and hold with a dry sectioning clip.
Repeat on other side.
Join both ends and secure together with an elastic under the neckline to create a band of hair.
Spray hair with Redken Thermal Spray 11 and comb through.
With the Single-Waver on 320° to protect hair color, take horizontal and diagonal sections throughout the head and compress down the hair strand. Larger sections will form a looser wave.
Let cool and soften waves with the finishing brush and texturizing spray.
Take pearls (tweezers can be used for the smaller ones), place in two diagonal lines on one side, and then fill in the gaps to make a zigzag pattern. Get creative!
Repeat on the other side.
Make sure to press pearls into hair so the product and adhesive on the pearls set.
"If you're looking for a quick and easy style for holiday parties, either for yourself or guests, this hair headband with pearls is great. And it can easily be taught to a client…because we can't always be there for them," says Devine.