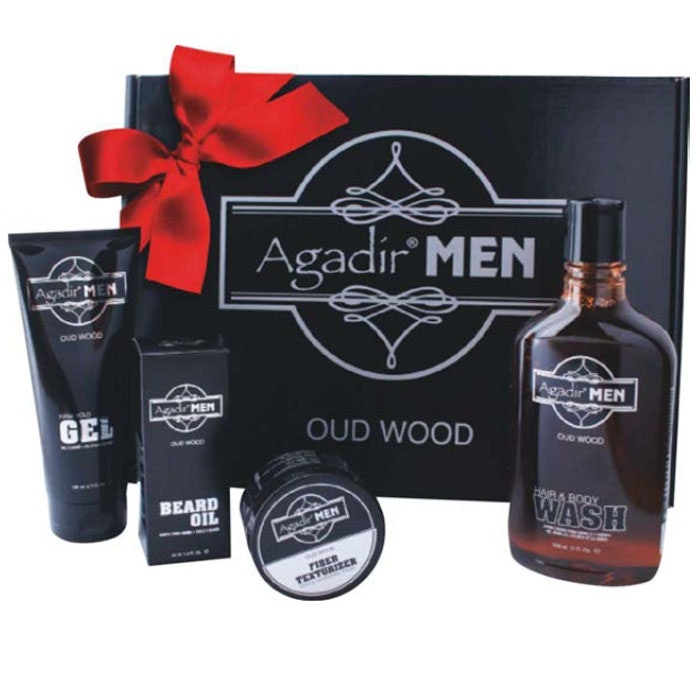 Tis the season for goodies that help get his groom on. Make sure you're in on some of the action. 
Whether it's in time for Black Friday or Small Business Saturday, make sure you're ready to retail gift sets during the holiday season. And ditch the excuses: you have enough room (just display one and store the extras in back), men will buy products for other men (it's 2018 after all!) and you can't afford not to. Happy Holidays!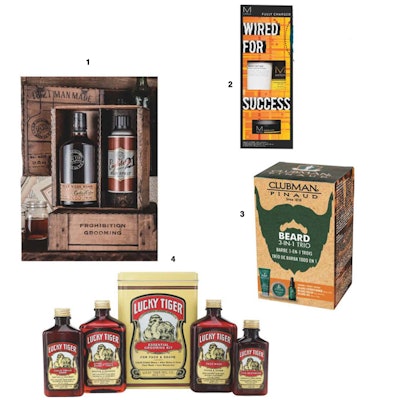 1) This gift set will get him buzzed without the liquor. The 18.21 Man Made Gift Set includes Man Made Wash, a three-in-one cleanser packaged in a whiskey flask-shaped bottle, and Premium Hairspray whose design is reminiscent of vintage beer cans. 
2) The MITCH Wired for Success holiday kit contains three top products: Heavy Hitter Deep Cleansing Shampoo, Construction Paste hard hold styler and Clean Cut semi- matte styling cream. 
3) All the bestsellers in one convenient box—the Clubman Beard 3-in-1 Trio contains Beard Balm, which offers control without stiffness or waxiness; 2-in-1 Beard Conditioner that moisturizes and conditions skin and scruff; and Beard Oil, which soothes dry skin, provides a light shine and delivers moisture.
4) Just in time to get him primed for a New Year's kiss, the Lucky Tiger Essential Grooming Kit contains Liquid Cream Shave, After Shave and Face Tonic, Face Wash and Face Moisturizer. Bonus: It comes packaged in a vintage-style gift tin.
RELATED: 11 of the Country's Best Barbershops and Male-Focused Salons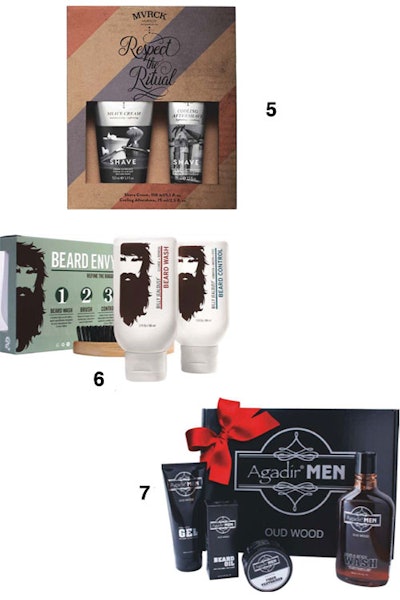 5) Respect the ritual, respect the face with the MVRCK by Mitch Gift Set, which comes packaged with moisturizing Shave Cream and Cooling Aftershave to help give guys the closest shave possible. Key ingredient barley seed extract helps prevent razor bumps.
6) Don't skimp on the scruff: The Billy Jealousy Beard Envy Beard Refining Kit gives his whiskers some much-needed TLC. Beard Wash hydrates with aloe and soy protein, while Beard Control perfects with jojoba oil. Bonus! Comes with an extra-firm boar bristle beard brush (say that five times fast). 
7) All wrapped up with a red bow. The Agadir Men Oud Wood Gift Box Set comes packaged with full size products, including Hair & Body Wash, Firm Hold Gel, Fiber Texturizer and Beard Oil Pump, plus three sample packets each of Gel and Beard Oil—all infused with the brand's signature scent. 
RELATED: Q&A With Barber John Mosley, aka @popular_nobody
Retailing in the Shop During Holiday Season
The pros behind salonsdirect.com offer advice on how to retail holiday products.
Create a designated holiday retail area, but be mindful that some clients may be coming in to escape it.

Make sure you have enough stock to last you the season. You don't want to end up with a sparse looking retail area by December, missing out on those last-minute sales.

Display gift packs in your window. By making your display look appealing and festive, you'll be surprised how many walk-ins you could get with people popping in to pick up last-minute presents.

Consider a Christmas event—offer some drinks and nibbles and encourage clients to bring along friends. Take this opportunity to sell gift vouchers for services and sell holiday gift sets.

When putting together products to retail as a set or selling ready-made gift packs, remember to stock gifts at different price levels to appeal to every potential client.
[Images: Courtesy of manufacturers]