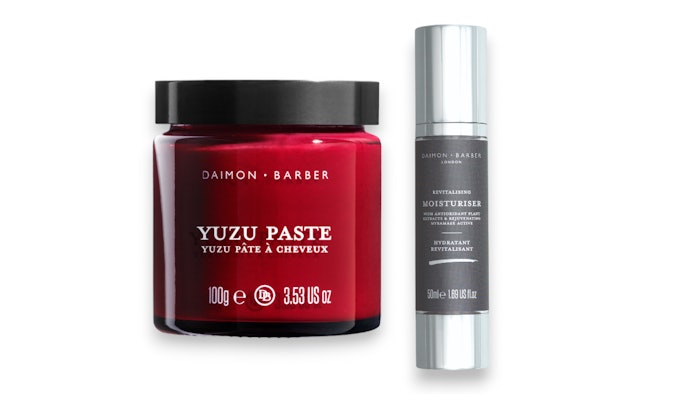 Courtesy of Daimon Barber
Daimon Barber has always been committed to creating innovative, luxurious and results-driven grooming products for men.
As part of the brand's ethos, sustainability has been at the forefront of their product designs and formulations. Daimon Barber's range of men's skincare, hair care and grooming products, which recently launched in the United States, embody their vision of creating effective products without compromising their mission to maintain a sustainable packaging and ingredients for their line.
At the core of Daimon Barber's philosophy lies their dedication to sustainability. Recognizing the importance of minimizing their environmental footprint, the brand has gradually implemented sustainable packaging to house their luxury line and formulations. Their iconic Yuzu Paste, along with other products in their collection, are encased in ecologically friendly, recyclable jars. This conscious choice not only reduces waste but also ensures that go-to products look great on any bathroom vanity. 
Daimon Barber's commitment to sustainability extends far beyond packaging. Their latest skin care innovation, the Revitalizing Moisturizer is formulated with ethically sourced ingredients from the UK. This moisturizing cream is free from parabens, sulfates and other harmful chemicals. Infused with a harmonious blend of natural oils, including Filagrinol, Propolis extract, Black Seed, Apple Seed, Lime Seed and Coconut Oils, along with Murumuru Butter, the moisturizer deeply hydrates and nourishes the skin, leaving behind a soft, smooth, and non-greasy finish.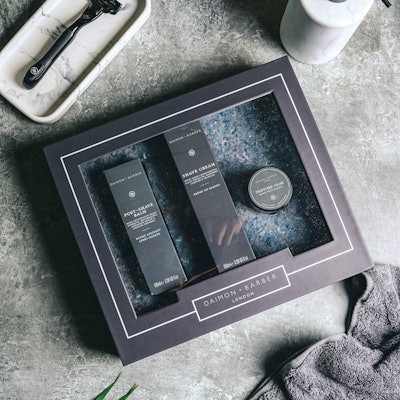 "Our formulations are unique to us, created by us. We meticulously source and trace the origin of every ingredient," Louis Hayes-Davies, owner and managing director of Daimon Barber, says. "In our packaging evolution, we have worked closely with our partners to prioritize eco-conscious materials, utilizing glass jars, recycled plastic lids, water-based inks and sustainable cardboard for all our boxes." 
Among their remarkable range, the Yuzu Paste stands as a crowning achievement. Uniting the regenerative properties of the yuzu fruit within the meticulous formula, Daimon Barber has produced a hair styling product that delivers exceptional hold and finish. Crafted from a carefully curated blend of natural waxes and oils, including beeswax, kahai nut oil and yuzu fruit extract, the Yuzu Paste offers a strong hold without weighing down the hair. Enriched with vitamin E, it not only styles but also nourishes and protects the hair from damage. 
Daimon Barber proudly formulates all their products with ingredients sourced exclusively from the UK. Moreover, they maintain a steadfast commitment to cruelty-free practices, clean and unique formulations, no nasty chemicals and no parabens or sulfates in any of their products. 
Experience the pinnacle men's grooming with Daimon Barber's exceptional range of products. To learn more and explore their offerings, visit daimonbarber.co.uk.