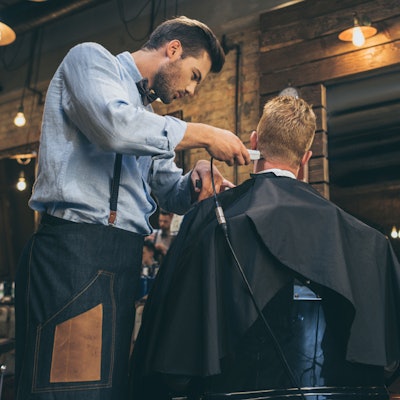 As someone in the hair industry, what would you say is your most important tool? Well, that's kind of a trick question, because other than your hands (which are, arguably, the most important tool), the answer lies in how you like to cut hair. Do you prefer the control that shears offer when used in tandem with a comb? Or would you rather take a clipper to your client's mane? And for texture, can you not get enough of razors? No matter which implement you reach for when your client walks in the door, we have advice from today's top stylists and brands on how to best select and care for your investment. And if you're ready for something new, we've rounded up a slew of products for you to covet. 
Consider This
Purchasing a new tool is an investment. With that in mind, what should be some top factors when considering a new grooming tool? Well, many of our experts say that quality and performance is key. "The quality of the instrument comes first," says Nick Arrojo, founder of ARROJO and salon owner. "Working with high-quality tools will inspire you to produce high-quality work." Vanessa Wada of Jatai agrees, adding that the tool needs to do what it says it does and needs to do so consistently. "You want consistency in the performance of any tool," she explains.
That being said, our experts agree that you need to stick within a budget. As Arrojo exclaims: "There's no point having the fanciest clippers if you can't afford to get to work!" Karen Delzell, vice president of marketing for Cricket Company, states that remaining within your price frame will also "help you avoid the dreaded 'buyer's remorse.'" ("Been there, done that, too many times," she adds with a laugh.) It's all too easy to get sucked up into the lure of added bells and whistles that you may not be able to afford—or even need. For example: Do you really need that fourth hairdryer that's the same as your other three but now comes in a cool tattoo pattern? Probably not. "Start with essential tools that you will make use of every day," explains Arrojo. "Avoid gimmicky tools that do not promote craftsmanship and creativity."
RELATED: Wahl Educator Benny Machado on Winning the Online Barber Battle and Starting Out
Another consideration is comfort. You'll be using this tool day in and day out, so make sure it fits not just your budget, but your hand as well. Hand and wrist fatigue can be a real problem, so ensure the product you're buying is ergonomic and is a good fit for you. "Any tool should have your safety in mind," says Wada. "This means that handling the product is ergonomic and won't create health problems for you in the future." Delzell agrees, adding, "You are the artist, so make sure the product you are adding to your kit is the right fit for you—in every way."
Go Clippers
When it comes to men's grooming, there is perhaps no tool more important than the clipper. When selecting the right clipper for you, especially if you're a stylist and are new to the barbering market, there are a few key points to keep in mind, according to our experts.
Motor: "The motor is what drives the clipper blades," says Lori Chiazzo, consumer marketing manager of Panasonic Tools. In order to ensure that the clipper can navigate through different hair densities, it's important that the motor be strong, fast and reliable. Traditionally, there are a few different options available to you.
1. Magnetic motors run at high speeds for smooth cuts. Good for light hair textures.
2. Pivot motors are twice as powerful as magnetic motors with a lower blade speed, making them perfect for thick or heavy hair.
3. Rotary motors have an equal amount of power and blade speed, yet are the only motors available with different speed settings.
Weight: "Barbers and stylists consider the weight and feel of the tool in their hand," says Anthony Barmer, Wahl Education and Artistic Team member, who prefers a heavier clipper. Jay Majors of BaBylissPRO says that you should consider the weight in relation to the comfort. He says that asking the question, "Will it be easy to use on a daily basis?" is important in determining if it's too heavy.
Cord vs. Cordless: "A lot of barbers are caught up in the stereotype that a cordless tool will be insufficient or not powerful, but with today's technology that is not true," says Majors, who's recently been gravitating more toward cordless clippers. "When considering a cordless tool, I look for one that has a run time of at least 1.5 hours."
Blade Type: "Blades are an important part of clippers," says Chiazzo. "The right clipper blade should be able to make clean precise cuts." Majors says he ensures that he always has a clipper with a concave blade and another with a surgical or flat blade. Barmer also considers what kind of work he does when selecting a clipper. "I tend to use a surgical blade, as I do a lot of tight fades and close tapers, which is what that blade is designed for," he says.
RELATED: Andis Announces Winners of Fabulous Fades Competition at ABS
However, no matter what type you purchase, keeping it in optimum condition is paramount. Clippercide Spray is a smart 5-in-1 formula that disinfects metal clippers with an OSHA-compliant formula; lubricates blades; clears away hair, dust and particles; cools on contact; and prevents rust formation. Clippers are meant to last a long time, and with proper maintenance and cleaning, they can last a lifetime.
Blow and Brushed 
Sure, you view your shears, razors and clippers as extensions of your hands when transforming men's hair. But, more and more men are discovering the benefits of actually styling their hair. Make sure you demonstrate how to use blowdryers and brushes when they get home and they'll thank you for it. If they're in the market, here are a few that may be right up their alley.

Left - Since no man is going to want to spend ages blow drying his mop, the BaBylissPRO Rapido is a solid choice since it offers faster drying time with a quiet motor.
Center - The Denman D6 BeBop brush not only gently massages the scalp, but is also perfect for the even distribution of wet products. Not for use with a hairdryer, however.
Right - What guy doesn't love a two-in-one? The Esquire Grooming Brush Dryer dries hair while brushing. Genius!
Shears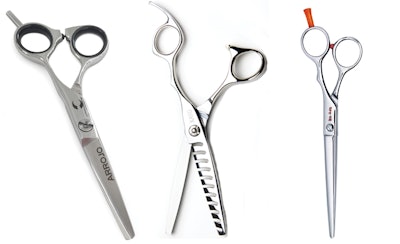 Left - ARROJO BMAC Precision 5.0 Shear If your classic or creative men's styles call for precision-cutting, this shear delivers. A custom streamlined screw provides unobstructed smooth pivot action, while V10-grade stainles steel construction ensures a long-lasting edge and consistent results.
Center - Karg K-TSlide Royale 6" These texturizing shears ensure that when you comb out, there will be zero drag on both wet and dry cuts. Plus, a crane offset handle minimizes stress on you hand, elbow, shoulder and neck for a more pleasurable cutting experience over time.
Right - Cricket Centrix Rock-it Dog 7" Shear Precision-cast convex blades allow for a smooth, effortless cutting motion while an offset grip cuts down hand stress, which in turn ups your cutting speed.
PHOTOS: The Barber Industry's Top Performing Clippers and Trimmers
Mike Karg, owner of Karg Shears, shares his top tips for selecting the perfect set of blades.
Handle Design: Consider a crane handle shear whose handles angle downward in relation to the blade. "These shears allow you to work with your hand open and your elbow down, reducing stress on the hand and wrist as well as the neck and shoulders," he explains.

Blade Design: Convex blades give smooth cuts and great slide-cutting performance, Karg says. "They also last longer between sharpening, which saves money and wear and tear on your shears."

Manufacturer Reliability: What good is a lifetime guarantee if the company isn't around next year? Ensure the company you're purchasing from is quality and aboveboard. "Also insist on seeing the country of origin of your shear, which, by law, should be engraved or laser etched onto the scissor," Karg
warns. "No country? Don't buy!"
Clippers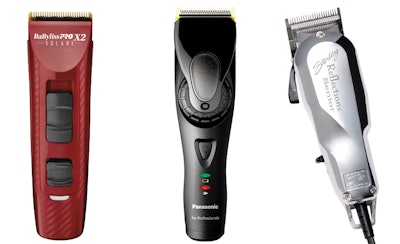 Left - BaBylissPRO Volare X2 Micro-serrated blades offer you optimum cutting power through any hair texture, wet or dry, and included interchangeable guards feature a .5 and a 1.5—perfect for transitioning fades from light to dark.
Center - Panasonic ER-GP80-K Professional Hair Clipper & Trimmer This clipper doesn't sacrifice power if you decide on the cordless option for ease of mobility. X-Taper Blades capture and cut hair for a smooth, uniform cut while the 10,000 CPM linear motor with Constant Control intuitively detects hair density and adjusts motor speed for more efficiency.
Right - Wahl Sterling Reflections Senior Designed for traditional on-scalp tapering and fading, precision fades and clipper-over-comb work, this clipper includes an adjustable taper lever, eight cutting guides (1/16" – 1"), styling comb, oil, cleaning brush, and red blade guard.
Razors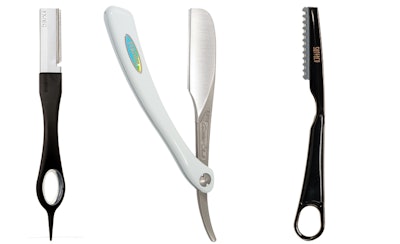 Left - Donald Scott NYC DS/X4 Visible edges, a straight shave or precision work in hard-to-maneuver areas (think: brows and ears): This balanced razor's ergonomic twist handle allows you ease and control over all of these service details, and comes with an exclusive fine mesh blade guard to protect skin against any unwanted nicks.
Center - Jatai Feather Artist Club DX Razor Versatility reigns supreme with this weighted Japanese stainless steel shaving razor, which houses five of the brand's blades (think: Super Blades for thick hair and Soft Guard Blades for ultra-sensitive skin), allowing you to tailor your shave to the customer's unique needs. 
Right - Surface Titanium Razor Featuring a scuba grip, this razor is virtually weightless with no finger rest, allowing you to always cut hair directionally for maximum creativity.
– by Amy Dodds and Karie L. Frost
[Image: Top - Getty Images, product by each brand]