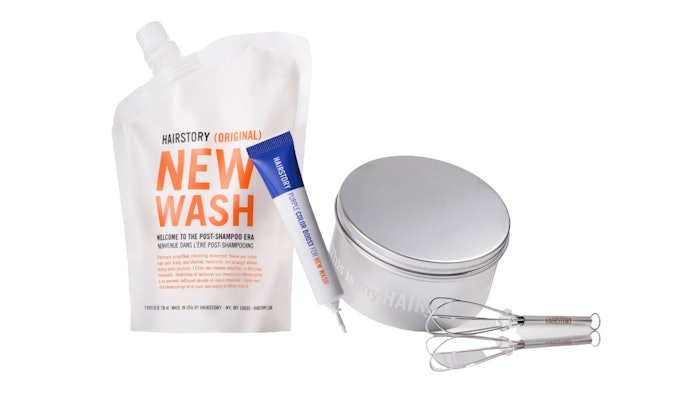 Courtesy of Hairstory
Just in time for summer bleaching and seasonal highlights, Hairstory is launching the new Purple Color Boost for New Wash.
This unique toner is designed to be mixed with New Wash and is naturally formulated with 95% botanical colorants and powerful antioxidants to eliminate brassiness and prevent it from recurring. New Wash's detergent-free formula does not strip color and contains a powerful combination of gentle, color-preserving actives that, when coupled with the unique botanical complex in Purple Color Boost, keeps blonde and silver hair bright and brass-free. 
The unique mixing experience of the Purple Color Boost gives you control over the amount of toner you use and allows you to customize it to your needs. Plus, by mixing the toner into your New Wash, you are eliminating the waste that would have been produced from buying a whole new product. 
The Purple Color Boost for New Wash boosts color, brightness, shine, manageability and antioxidation for all shades of blonde, gray, silver and white.
Blonde and silver hair can turn what colorists call "brassy" – a yellow cast that can lean orange. For bleached blondes in particular, this discoloration can be a sign of oxidation, or a chemical reaction between the hair color and its environment (pollution, water and chlorine). What's so smart about this Purple Color Boost is that the ingredients that work to correct discoloration also help to prevent it in the first place. A complex of lavender, rosemary, and violet extracts are both vibrant with pigment and full of antioxidants that prevent the chemical reactions that bring on brassiness.
To use, thoroughly mix the entire contents of this tube into 8 ounces of New Wash (Original or Rich) and use as needed.
The product is available for purchase on Hairstory's website www.hairstory.com.
Try New Wash:
Hairstory is looking for hairdressers who are passionate about giving their clients their healthiest, happiest hair ever. You can join their Pro program and try New Wash for free by visiting www.hairstory.com/pages/beautylaunchpad.