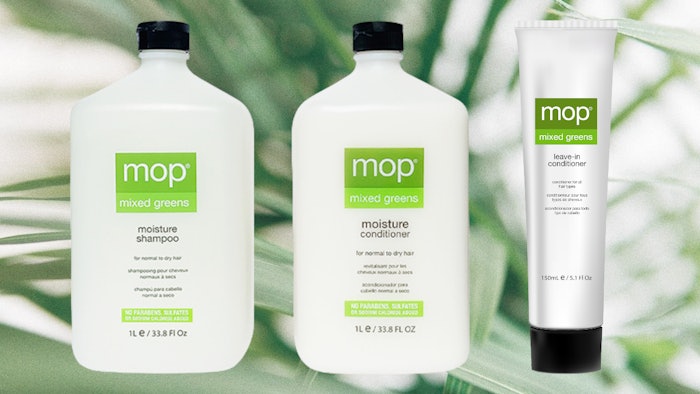 courtesy of mop
You're taught how to wash your hair at a young age but cleansing should not be the same for all hair textures! Did you know that there's a specific technique designed for curly girls that, when used with the proper products, results in beautifully defined and healthy curls, waves and coils?
mop (Modern Original Products for Modern Original People) has the perfect regimen to support this new cleansing routine. The mop mixed greens range includes a shampoo, conditioner and a leave-in conditioner that are all powered by an exclusive blend of fruits, vegetables and botanicals that serve up a nutritious dose of healthy ingredients to your hair.
"As more and more women embrace their natural texture, they also notice that their curly hair may appear drier and frizzier than their straight-haired counterparts," explained Sarah Brink, Director of Education for MOP. "And that's because it is. Curly hair needs moisture to keep curls soft, defined, and tangle-free. Our mixed greens products help deliver that essential hydration with continued use to help you be the best version of yourself!"
Step 1 – Cleanse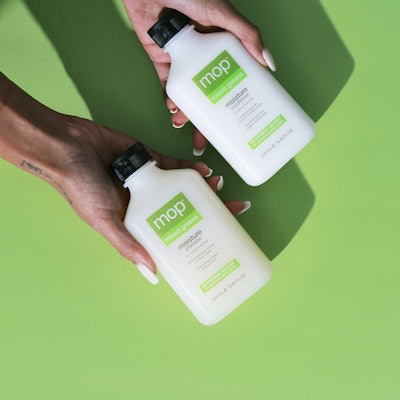 Here's where you must re-learn a new way to cleanse. Do NOT dunk your head back under the water pouring out from your shower head. Instead, soak your crown through the "baptism method." Simply cup your hands to capture water and pour it over your crown 4-5 times. Next, lean forward and let the water flow over your hair while you slowly squish it into the strands to open the hair shaft. Emulsify mop mixed greens moisture shampoo into your hands, and use your fingers to scrub scalp for 1-2 minutes. Focus on the scalp, because when you rinse, the shampoo will run down to the ends. Once rinsed, repeat, again focusing on the scalp. Use the squish method to press the water into hair.
Step 2 – Condition
Apply a substantial amount of mop mixed greens moisture conditioner to hair by pressing it in and raking through with your fingers. Add as much as necessary to ensure hair is coated and gently comb through to detangle any knots. Work up from the bottom so hair isn't subject to breakage. Leave on hair for 1-2 minutes. Rinse using the baptism method once again. 
Step 3 – Protect
The most effective way to apply mop mixed greens leave-in conditioner is to hair that is still soaking wet. One applied, comb through and gently wrap hair in a towel. It's important to avoid friction that can roughen the cuticle.
TIP: Allow hair to air dry to 90 percent before reapplying OR diffuse and style as usual.
The mop mixed greens moisturizing formulation includes cucumber, olive oil, rosemary, apple cider vinegar, jojoba oil and sunflower oil. The line is also sulfate, gluten and paraben-free.
mop can be found in salons nationwide and at www.mopproducts.com.