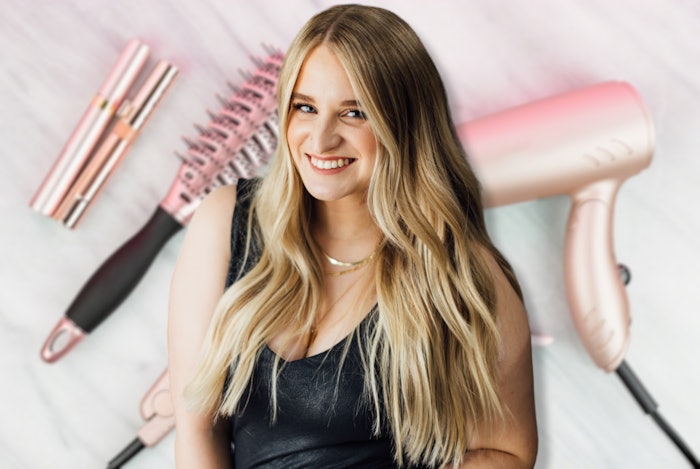 courtesy of @caseytaylorstylist
Over the course of the month, we will be spotlighting the winners of Beauty Launchpad's 25 Under 50K for 2022.
Here, you will get to know Casey Taylor. Taylor is a hairstylist, salon owner and independent educator for small-town stylists with big goals and dreams at Ash and Gold Beauty Studio in Lindale, Texas. In her Q&A, you will learn her favorite hair trends, a fun fact about her, her proudest accomplishment and more. 
Beauty Launchpad (BLP): What is a fun fact about you? 
Casey Taylor (CT): I have adopted band tees as my daily uniform, and I listen to whatever band I'm wearing on my way to work every morning. 
BLP: What is your proudest accomplishment? 
CT: For the longest time, I thought my biggest accomplishment was proving that I could be a successful stylist in a small town. My parents, cosmetology school instructor and old boss all said I would be throwing my life away by working in a small-town salon. But, as my business continues to grow despite their doubts, I realize that I am the most proud of putting my own dreams first and pursuing them the way I want. It's no longer about proving them wrong; it's about achieving my own version of success. 
BLP: What is your current favorite hairstyle trend? 
CT: Sleek and timeless bridal! I have been obsessed with the classic waves, polished parts and smooth ponies. 
BLP: What is a hair tip you have for your fellow stylists? 
CT: My best advice is to never let your location or population count limit your success. Don't be afraid to bring luxury to your small-town salon. Small-town clients are craving an indulgent experience that they don't have to commute for, and by elevating the little details about your service, you can charge the same prices as a big-city stylist in the comfort of your hometown. 
BLP: What inspires you? 
CT: I am inspired by conversations, perspective and real-life experiences. My education is based on my own life experiences as a small-town stylist, but my knowledge is constantly expanding through the conversations I have both in and beyond our industry. 
BLP: What do you love about your work? 
CT: My greatest fulfillment comes from my ability to serve and help others, both as a stylist and an educator. I have the privilege of not only helping someone feel extra-special in my chair, but also guiding stylists through making life-changing decisions in their businesses with confidence. 
BLP: What motivates you about this industry? 
CT: The success of anyone in the industry is inspiring, but there is something extra-special to me when I see someone in a small town doing big things. Small-town stylists are often underappreciated and plagued by stereotypes of being "undereducated" and "outdated," when in reality they have the ability to be just as talented and knowledgeable as anyone in a larger city. When I see my students who are in small towns achieve big milestones in their business, I am motivated to keep creating more education that's specific to helping small-town stylists create the life and career of their dreams. 
BLP: What is a professional goal you have for yourself? 
CT: A huge focus for me right now is expanding my education to be more accessible to small-town stylists across the globe. I want to create more online education at all price points, and hopefully one day travel in person to more remote areas to educate. 
BLP: Who is a role model you have in the industry? 
CT: Jodie Brown is the definition of the type of educator I strive to be. I was so inspired the first time I heard her journey of starting independent education and how she made changes in her career to put her family first. She is one of the most encouraging humans I have ever met, and she pours that positivity into her students and peers.
BLP: What is your favorite career-/work-related memory from this year? 
CT: Getting to finally meet some of my industry friends in person! I have connected with so many amazing leaders in the industry over the past two years via Instagram, online education and podcasts, and now with in-person education picking back up, I have had the opportunity to take some of these relationships into the real world. Everyone has been even more amazing in person and have absolutely lived up to their genuine online personalities. It's not only fun to meet the faces on the other side of the screen, but it always reignites my fire for the industry.
To see our full spread for this year's 25 Under 50K recipients, you can read Beauty Launchpad's November/December 2022 digital magazine.