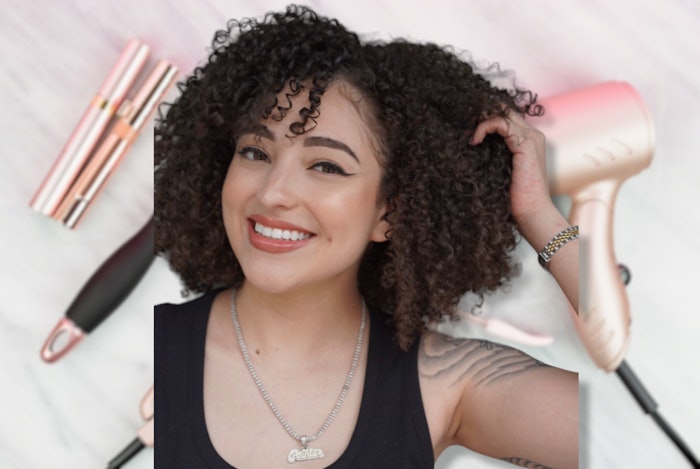 courtesy of @annythepainter
Over the course of the month, we will be spotlighting the winners of Beauty Launchpad's 25 Under 50K for 2022.
Here, you will get to know Anny Quesada. Quesada is a hair artist and colorist at Fade Mansion in South Plainfield, New Jersey. In her Q&A, you will learn her favorite hair trends, a fun fact about her, her proudest accomplishment and more. 
Beauty Launchpad (BLP): What is a fun fact about you? 
Anny Quesada (AQ): I love traveling, and I'm a part-time foodie. 
BLP: What is your proudest accomplishment?
AQ: Showcasing my creativity by being able to work internationally. 
BLP: What is your current favorite hairstyle trend?
AQ: Shag haircuts and '90s bouncy shiny hair with face-framing layers.  
BLP: What is a hair tip you have for your fellow stylists? 
AQ: Curls love water. All you need is more moisture! 
BLP: What inspires you?
AQ: I find continuous inspiration from nature and art [...] I translate it into the hair color. 
BLP: What do you love about your work?
AQ: Challenging myself with trying new things out of my element and having the opportunity to be fully creative with each canvas. 
BLP: What motivates you about the industry you are in?
AQ: Seeing my clients grow their confidence with trying a new color or cut. 
BLP: What is a professional goal you have for yourself? 
AQ: To open my dream salon and elevate my craft to a new level.
BLP: Who is a role model you have in the industry?
AQ: Guy Tang—all of his work is flawless. I'd watched his YouTube channel before I enrolled in cosmetology school. 
BLP: What is your favorite career-/work-related memory from this year?
AQ: When @fademansion opened. The creativity flows insanely here.
To see our full spread for this year's 25 Under 50K recipients, you can read Beauty Launchpad's November/December 2022 digital magazine.