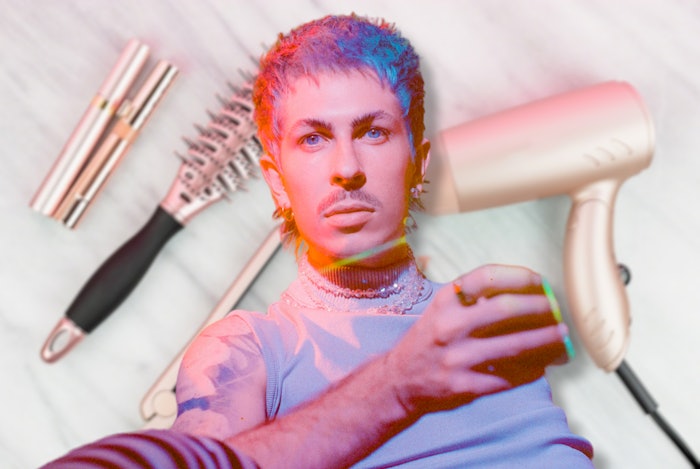 courtesy of @andy_doesyourhair
Over the course of the month, we will be spotlighting the winners of Beauty Launchpad's 25 Under 50K for 2022.
Here, you will get to know Andy Judd. He is an associate creative director at Local Honey in Nashville, Tennessee. In their Q&A, you will learn his favorite hair trends, a fun fact about them, his proudest accomplishment and more. 
Beauty Launchpad (BLP): What is a fun fact about you?
Andy Judd (AJ): A fun fact about me is that I was an exchange student and spent my junior year of high school in Belo Horizonte, Brazil. Beijos<3 
BLP: What is your proudest accomplishment?
AJ: My most proud accomplishment is that I've been able to dedicate the time to achieve so many of my professional and personal dreams faster than I originally had intended. I feel very fortunate. 
BLP: What is your current favorite hairstyle trend?
AJ: There are so many hairstyle trends happening right now, but one of my favorites would be seeing the evolutions of soft and romantic shags to get a bit more intense/new wave with introducing precision-based oddities to the haircuts. 
BLP: What is a hair tip you have for your fellow stylists?
AJ: A tip for fellow stylists would be: If you see a type of hair done that you resonate with, think about how you would create your version of that hair. That'll help you start thinking about what your individual perspective on hair is. 
BLP: What inspires you?
AJ: Gosh, a lot inspires me. I break down my viewpoint on hair as romantic meets quirk meets queer meets punk. Finding inspiration that fits into one or all of those categories is where my mind lives.  
BLP: What do you love about your work? 
AJ: What I love about my work is that I try to approach thinking about hair shapes and color placements with what they would be like illustrated. I love to see different renderings of what said created hair looks like. 
BLP: What motivates you about the industry you are in? 
AJ: What motivates me about the industry is meeting hairdressers from all backgrounds and varying amounts of time in the industry, all pushing to create their perspectives—while making the industry, as a whole, progressively more community-driven and artful. 
BLP: What is a professional goal you have for yourself?
AJ: A professional goal I have for myself is to be able to one day step away from working full time behind the chair to focus on creating collections, traveling, education, etc. 
BLP: Who is a role model you have in the industry? 
AJ: I have too many role models in the industry that I am fortunate enough to call friends—  people who approach their careers with integrity and intention. To name a few: Joe Chartlon, Brian Hickman, Lupe Voss, Judith Viola, Briana Cisneros, Tanya White, Mandy Wray, Chrissy Collins, MATTIE, Kristy Ramos, Raven Camacho and so many more. We are all so lucky to have so many incredible role models in this industry.  
BLP: What is your favorite career-/work-related memory from this year?
AJ: My favorite work-related memory this year has been multiple occasions that truly are too hard to pick one over the other. All of the events involved traveling, education, collection creation or getting to spend time with the hair community at large.
To see our full spread for this year's 25 Under 50K recipients, you can read Beauty Launchpad's November/December 2022 digital magazine.