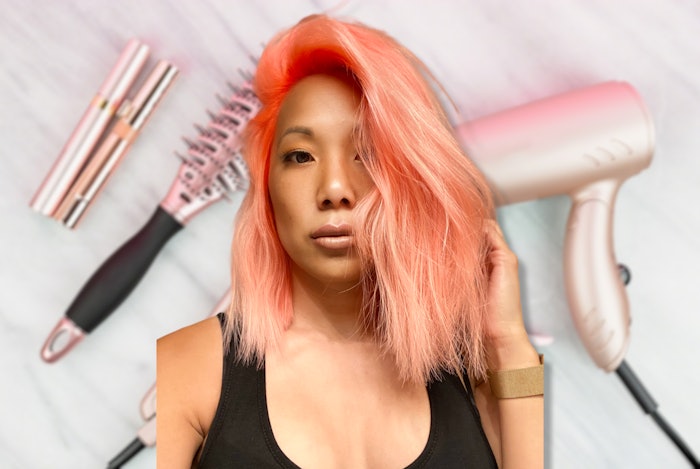 courtesy of @cindyearlcovic
Over the course of the month, we will be spotlighting the winners of Beauty Launchpad's 25 Under 50K for 2022.
Here, you will get to know Cindy-Rose Earl Covic. She is a colorist and extension artist at Bianchi's of Royal Oak in Royal Oak, Michigan. In her Q&A, you will learn her favorite hair trends, a fun fact about her, her proudest accomplishments and more. 
Beauty Launchpad (BLP): What is a fun fact about you? 
Cindy-Rose Earl Covic (CC): I actually went to college at 17 for art, owned a clothing store and worked as a Black Jack dealer, all before finding hair. 
BLP: What is your proudest accomplishment? 
CC: My assistants...watching them grow into their own is most rewarding. 
BLP: What is your current favorite hairstyle trend? 
CC: Modern shags, especially with natural texture. There is nothing like real movement. 
BLP: What is a hair tip you have for your fellow stylists? 
CC: When doing a bleach and tone, don't just slap it on like a retouch. Understand where heat may occur and may be stronger in certain areas. Work in mindful sections, and slow and low will win the race. 
BLP: What inspires you? 
CC: When it comes to hair, really everything, but people truly inspire me. 
BLP: What do you love about your work? 
CC: Being able to pass on my gifts that others have shared with me. 
BLP: What motivates you about this industry? 
CC: The drive of others and the passion we share. 
BLP: What is a professional goal you have for yourself? 
CC: To enter the North American Hairstyling Awards. 
BLP: Who is a role model you have in this industry? 
CC: Sam Villa has always been my number one for his innovative mind, and recently, Linh Pham for changing the hair game for educators. Both have a hunger/passion like no other. 
BLP: What is your favorite career-/work-related memory from this year? 
CC: Traveling with my work bestie for all hair-related events and also teaching our first class together. 
To see our full spread for this year's 25 Under 50K recipients, you can read Beauty Launchpad's November/December 2022 digital magazine.