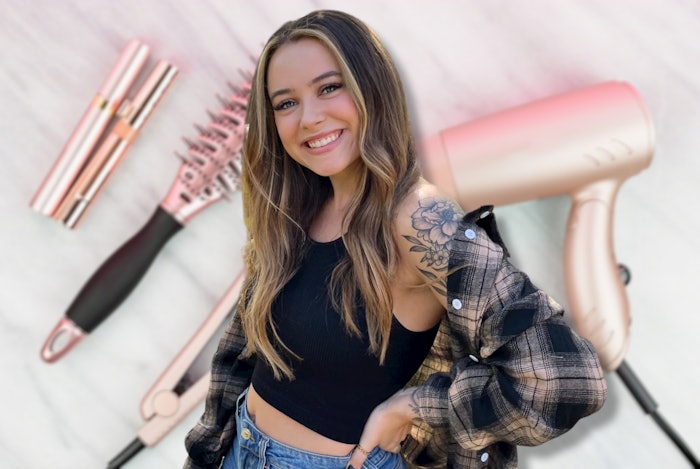 courtesy of Allison Moncheck
Over the course of the month, we will be spotlighting the winners of Beauty Launchpad's 25 Under 50K for 2022.
Here, you will get to know Allison Moncheck. Moncheck is a salon owner at Unorthodox Salon in Taylors, South Carolina. In her Q&A, you will learn her favorite hair trends, a fun fact about her, her proudest accomplishment and more. 
Beauty Launchpad (BLP): What is a fun fact about you? 
Allison Moncheck (AM): A fun fact about me is that outside of the salon you can find me listening to or reading all the murder mystery books, podcasts and documentaries. 
BLP: What is your proudest accomplishment? 
AM: My proudest accomplishment has been opening my own salon. I had a wild ride to get here, since I was actually a school counselor for years and had worked as a stylist while getting my masters. I never thought I'd be able to own my own salon or be where I am today. 
BLP: What is your current favorite hairstyle trend? 
AM: Definitely lived-in dimensional color. I loathed the solid blonde years. 
BLP: What is a hair tip you have for your fellow stylists? 
AM: Take all the education classes. Even if you feel comfortable with what you're doing, you can always learn something new that can change everything. 
BLP: What inspires you? 
AM: My clients and staff inspire me to be better for them every day. The crazy talented stylists on social media push and inspire me to grow and continue to learn. 
BLP: What do you love about your work? 
AM: I love that my work is very attention to detail, and, behind the head of hair, I have educated my clients on what I do and why—because I genuinely feel educated clients are the best clients. 
BLP: What motivates you about the industry you are in? 
AM: I think the fact that the industry is  ever-changing is what motivates me. I never thought 11 years ago that I would need to be a videographer and editor and really push myself to learn more about social media and marketing. It all has really pushed me to grow. 
BLP: What is a professional goal you have for yourself? 
AM: I feel very fulfilled in my day-to-day salon owner life. I have an amazing group of stylists I get to work with every day. So, I feel that my goal would be to start educating for brands I love and also start getting recognition for my work at awards shows, etc. This is a great start ;) 
BLP: Who is a role model you have in the industry? 
AS: I can't choose one! Julie Smith is goals all around, and I would love to learn from Madison Carbrey and Kelly Massias since I specialize in balayage! 
BLP: What is your favorite career-/work-related memory from this year? 
AS: This is so hard because I feel that I am constantly making great memories with my staff both inside and outside of the salon. I would have to say being reached out to by BLP for this opportunity is my favorite work-related memory so far this year; I was elated!
To see our full spread for this year's 25 Under 50K recipients, you can read Beauty Launchpad's November/December 2022 digital magazine.