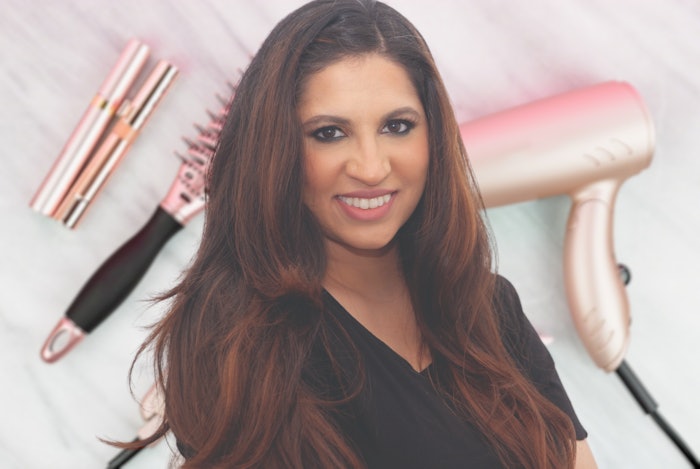 courtesy of Ailah Safdar
Over the course of the month, we will be spotlighting the winners of Beauty Launchpad's 25 Under 50K for 2022.
Here, you will get to know Ailah Safdar. Safdar is a makeup and hair artist at Cosmetality in Frisco, Texas. In her Q&A, you will learn her favorite hair trends, a fun fact about her, her proudest accomplishment and more. 
Beauty Launchpad (BLP): What is a fun fact about you? 
Ailah Safdar (AS): I am obsessed with The Office and have probably watched the whole show through at least 30 times. Still can't get enough! 
BLP: What is your proudest accomplishment? 
AS: Being one of the few South Asian women in my community to start her own business in the creative world. 
BLP: What is your current favorite hairstyle trend? 
AS: A good bouncy '90s blowout. 
BLP: What is a hair tip you have for your fellow stylists? 
AS: If you think you've run the round brush enough times to get a smooth section, run it a few times more. It makes all the difference!  
BLP: What inspires you? 
AS: Nature, traveling and talking to others about their life stories. Everyone has a good story to tell about their life, and with each person I meet, I take a little bit of what they tell me as motivation to continue to grow.  
BLP: What do you love about your work? 
AS: I consider myself a jack of all trades and love being able to experiment with different colors and styles whether it be makeup, hair color or hairstyling.  
BLP: What motivates you about this industry? 
AS: There is so much room for constant growth and improvement. The stylists in this industry are so open and helpful when it comes to those needing help and wanting to grow. It's definitely one big community.  
BLP: What is a professional goal you have for yourself? 
AS: To become a six-figure business within the next five years.
BLP: Who is a role model you have in the industry? 
AS: Farhana Premji (@xo.farhana.balayage). Her work is inspiring; subtle, but so beautiful.
BLP: What is your favorite career-/work-related memory from this year? 
AS: Going out on my own! Having my own suite is the best decision I've made to be able to provide multiple services for my clients and being my own boss.
To see our full spread for this year's 25 Under 50K recipients, you can read Beauty Launchpad's November/December 2022 digital magazine.