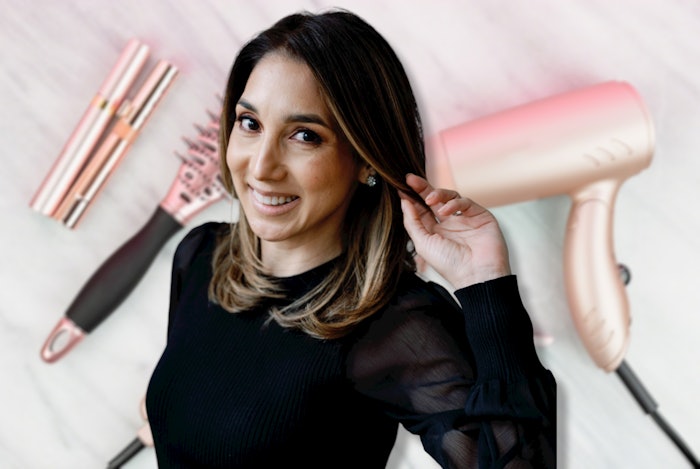 courtesy of Amanda Fiorita
Over the course of the month, we will be spotlighting the winners of Beauty Launchpad's 25 Under 50K for 2022.
Here, you will get to know Amanda Fiorita. Fiorita is a bridal hair specialist and educator at Amanda Fiorita Hair, LLC in Washington D.C. In her Q&A, you will learn her favorite hair trends, a fun fact about her, her proudest accomplishment and more. 
Beauty Launchpad (BLP): What is a fun fact about you? 
Amanda Fiorita (AF): I love to dance! When I was in elementary school, I used to be part of a Folkloric dance team. Our team used to travel all throughout South Texas performing Folkloric dances in local festivals and events. 
BLP: What is your proudest accomplishment? 
AF: I have several proud accomplishments, but if I have to choose one, I will say graduating  with honors from Sul Ross State University with a major in Criminology and a minor in Psychology, while working full-time at a salon. I made it a personal goal to go to college,  because no one in my family had attended college before. 
BLP: What is your current favorite hairstyle trend? 
AF: I'm obsessed with clean and polished updos. 
BLP: What is a hair tip you have for your fellow stylists?  
AF: When it comes to preparing the hair, I like to tell my students to think of it as a fabric. You need to turn silky hair into a texture like cotton. I like to prepare the hair by using a sea spray or a volumizing spray and blow-drying it with a round brush. Never use water, because it takes longer to dry. Repeat this process until the hair feels like "cotton!" Then, it is ready to style.  
BLP: What inspires you?  
AF: Social media is an outlet that inspires me on a daily basis. I love watching Reels or  TikToks of other stylists creating hairstyles. I also get inspiration from movies and TV  shows.
BLP: What do you love about your work?  
AF: I love being able to take my bride's vision she has for her wedding day hair and turn it into reality. This creates beauty and confidence in my brides on their special day. 
BLP: What motivates you about this industry?  
AF: Seeing other hair artists create styles and techniques different than mine; seeing hair companies produce products and equipment that help us create new styles and trends. 
BLP: What is a professional goal you have for yourself?  
AF: To make the cover of Brides magazine and/or The Knot. 
BLP: Who is a role model you have in the industry? 
AF: Sharon Blain is my role model for hair education. I have taken several of her online educational classes and, most recently, an in-person training. I love her teaching methods and hair techniques, and I've learned a lot from her in the past few years. Caitlyn Meyer is my role model for business. She has taught me how to effectively run my business/brand. I consult with her often and she always provides good advice. I am forever grateful for her mentorship and friendship. 
To see our full spread for this year's 25 Under 50K recipients, you can read Beauty Launchpad's November/December 2022 digital magazine.