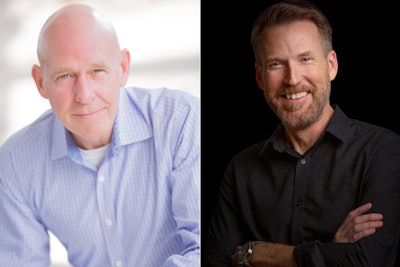 Our latest guests are Scott Nichols and Patrick Butler from Floyd's 99 Barbershop. These two "show up" and represent this incredible organization in very important and meaningful ways.
Floyd's is an alternative twist on an old school classic established in 1999 by brothers Paul, Rob, and Bill O'Brien. Floyd's is not a traditional barbershop. It has thrived over the past twenty years and carved out its niche in this industry that continues to expand. Interestingly, Floyd's 99 stylists and barbers offer a wide range of services for men & women. Each salon is designed to have a fun, engaging neighborhood hangout vibe with great music, high energy, and lively conversations taking place. Of note, are the unique murals that are painted on the exteriors of the buildings. This spells out the individualism of each location.

Patrick is the Technical Director of Education at Floyd's and has over 25 years of industry experience. He spent 10 years at American Crew as an International Educator where he helped to establish technical academies across North America, Europe, and Asia. He has taught men's haircutting and grooming in over 10 different countries and possesses a strong background in beauty and grooming product sales and distribution.

Scott is a franchising guru. Recently appointed to lead Floyd's franchise related efforts, he brings over 25 years of franchise experience working for nationally-recognized brands like Dunkin' and Jimmy Johns. Scott's role is to refine the company's franchise program and build a solid foundation that will work to take the brand to its targeted expansion goals.

In this podcast, Patrick and Scott share their thoughts about Floyd's, which makes it a very special place to work, and what makes it unique. They also give us some insight as to what has made them successful and their vision for the future.