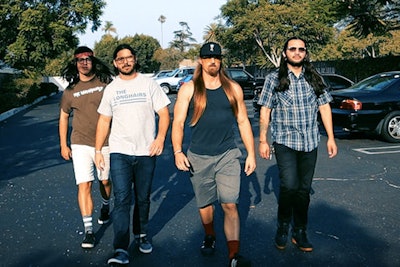 Meet the creative geniuses and co-founders of The Longhairs. This is a company that is all about men with long hair. These "out of the industry" mavericks found a unique niche for guys with "flow". They advocate for hair equality and celebrate men's long manes with hair whips and high fives. They also make Hair Ties For Guys, the finest men's hair ties in the world, and other superior products for men with "lettuce". They are just launching their specialized hair care products designed especially for this global fraternity.

Co-founders Chris Healy aka "El Rubio" and Lindsay Barto aka "El Moreno", were college fraternity brothers who started a digital marketing agency in 2012. Inspired by the notion that men shouldn't have to wear the same hair ties as their little sisters, they started The Longhairs as a blog, publishing original content every week and eventually launching Hair Ties For Guys. El Rubio is a writer, traveler, avid skier, and recreational athlete. El Moreno is a creative technology and interactive media enthusiast and recreational athlete with a wife and two daughters.

Listen as the Longhairs share their story including how they ended up on Shark Tank and how they enjoy being business partners with Mark Cuban. They will also share all the 411 about The Great Cut, a record-setting charity event they held early in the year. This incredible record-breaking event resulted in a donation of 339 pounds of hair to Children With Hair Loss.