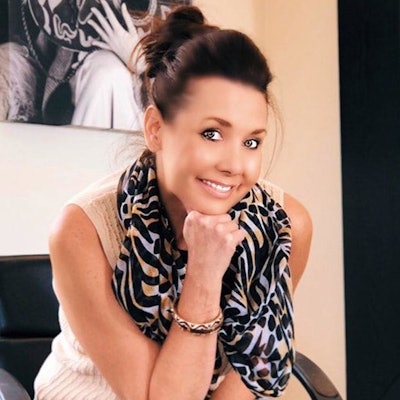 Kim Hansen's exposure to the salon industry is unique because she has a view that not many have.  She has knowledge of manufacturers and education, salons succeeding to the highest levels, salons failing, individual success and failure, understanding why various business models succeed and fail.
Kim built a successful salon in Los Angeles, California, growing 37% during the worst economy in 30 years.  That was after she lost her home because the government reclassified her booth renters as employees.  She had to pay tens of thousands of dollars in back taxes for social security and other employment taxes and penalties.  To save her salon she got serious, implementing systems and strategies that were not necessarily what everyone else was doing, but they worked to put "butts" back in chairs.  Ultimately the business grew to 1.5 million dollars and became a top 200 salon.  Kim's retail business was a whopping 38% of gross revenue.
A near-fatal accident left Kim faced with losing the career she spend 30 years to build. Doctors told her she would never walk normally due to a full pelvic fracture, and her wrist and clavicle fractures would end her hairdressing career.  She rehabilitated herself both physically and mentally, returning to her chair just 5 months after the accident.  She used this recovery time to become a certified coach.  Putting her experience of success, failure, and perseverance to work, she started inspiring, educating, and coaching salon owners.  Her focus is on helping them understand how they don't have to revise their dream, but they must revise their plan if they are not achieving the results they seek.
Kim has been called a "boat rocker". She calls herself a "straight shooter" who can help you build your business with simple systems and solutions without the fluff.
In 2019 Kim is launching her brand new "Back to Basics" workshop that focuses on: foundation, goals, systems, profit, and leadership. This unique program connects small groups of 7 salon owners, all moving in the same direction. For more information visit www.thenakedleader.org