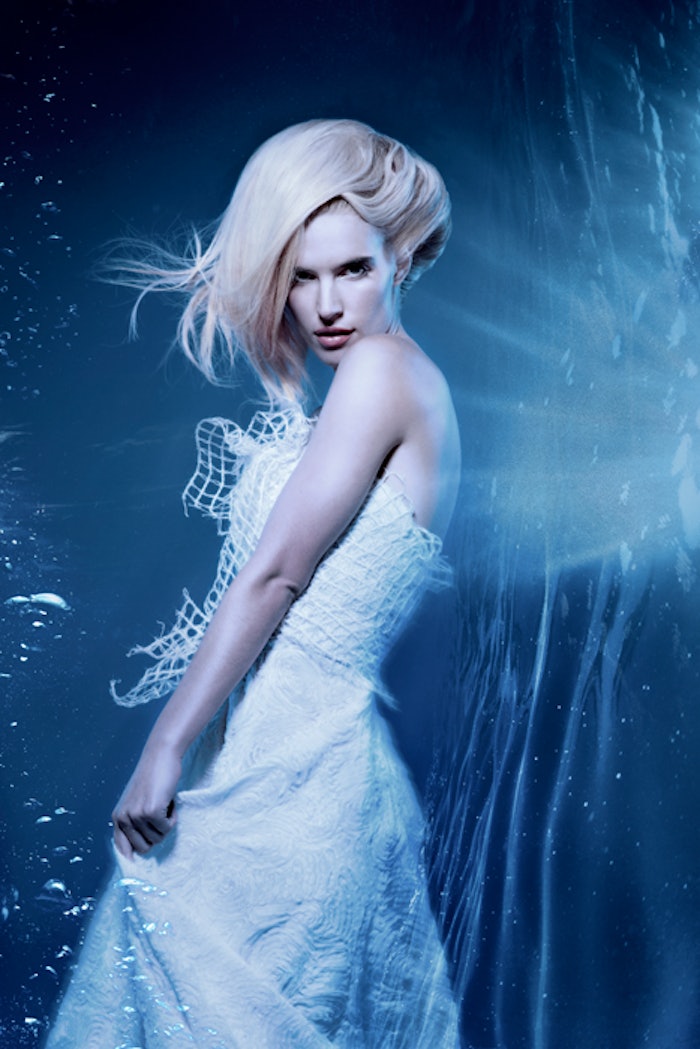 The Ulta Beauty Artistic Team dives under the sea in its latest collection. —ALYSON OSTERMAN-KERR
Many of the world's most renowned literary figures have taken inspiration from the sea, from Melville to Steinbeck and beyond. So it should come as no surprise that artists within our own industry succumb to the charms of the ocean as well. Enter the Ulta Beauty Artistic Team's latest compilation, Fluidity, which dips into a deep steely blue palette and experiments with texture to create a gamut of looks that are evocative of the sea. "With this collection, we opted to create a series of liquid-like statements for hair that are not only fluid and fun, but that also defy a certain sense of logic," says Jen McGann, Director of Artistic Development and Training for The Salon at Ulta Beauty. "The movement in the hair sparks an interesting story that speaks to nature and all its contrasts."
Fluid Ambience
For this mesmerizing catch, a sleekly rounded shape on top forms the look of a large shell. And just as the ocean is home to many surprising inhabitants, this swept 'do reveals unexpected accents of a smoked strawberry hue that delicately break up the pale blonde base.
To create the look, hair was prepped with Redken Guts 10 and flat-wrapped with Fashion Work 12. Large barrel curls were created all over, alternating the spiral direction from section to section. The side was Marcel-waved for an even tighter texture. Curls were then brushed through and sculpted into a rolled shape, leaving the ends out on the side for tendrils that move ever so softly.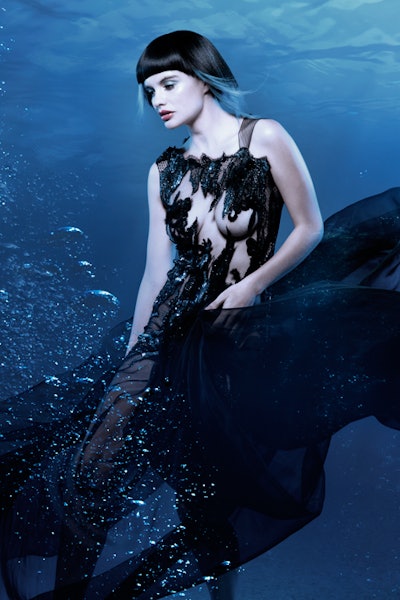 Gliding Stingray
With a strong bob shape, this highly geometric style flaunts hard lines in the front with a boldly arched fringe that blends into a super-straight edge in back. Long, loose, disconnected pieces in a silvery blue hue add airiness to the otherwise solid shape.
To create the look, Redken Guts 10 was applied on damp hair, which was then blow-dried with a paddle brush while flat-wrapping strands against the shape of the head. Shine Flash 02 added luster and tamed flyaways from the darker, solid shape while Windblown 05 added airiness to the lighter, disconnected pieces. Fashion Work 12 stepped up the 'do with a pliable finish.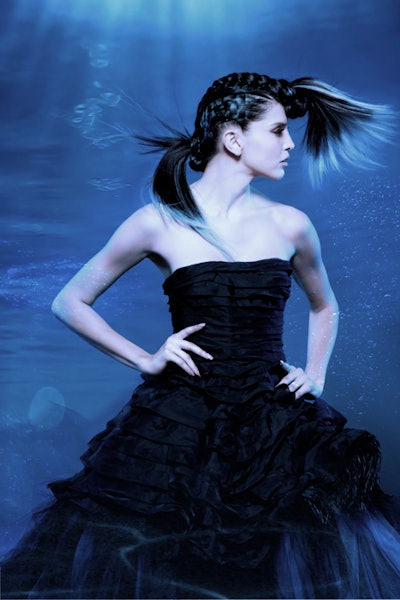 Sea Swept
With an edgy yet bohemian appeal, the devil is in the details of this hairstyle, which starts with a bold braid along a mohawk section on top. Light-tipped ends move freely while a basket weave adds a textured surface quality to the sides.
To create the look, Redken Velvet Gelatine 07 was applied on dry hair to achieve a wet feel. Sleek strands were used to craft the very precise basket weave on the sides as amped-up volume helped boost the robust braid along the top. The dual ponytails at each extreme were created using Fashion Work 12. For major hold, Triple Take 32 was misted atop the 'do.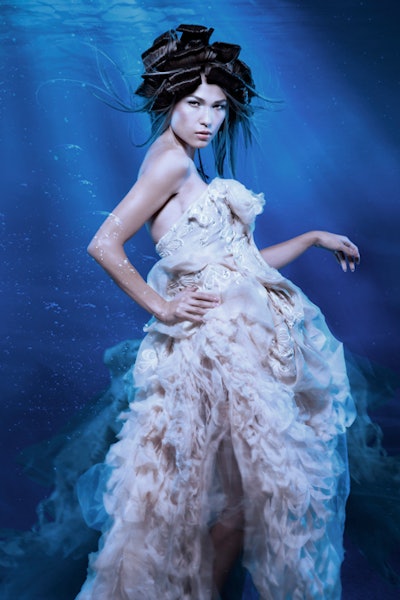 Resonant Reef
A series of wave-ironed shapes on top, with long flowing lengths in between, formed the basis of this haute style.
To create the look, wefts were sprayed with Redken Triple Take 32, folded in half and wave-ironed using a triple-barrel appliance. Once set, the pieces were sewn into cornrows that were done on the model's head. Long, straight and contrasting pieces were added in between the waved wefts, which were allowed to move freely for a tentacle-like effect.
Credits: The Artistic Team at Ulta Beauty: Hair: Aki Hill, Haley Kimble, Doris Sanchez, Feliciano Abad, Rachel Bettis, Brittney Ounanian, Pamela Lynch, Tiffany Cooksey and Samantha Manuzak; makeup: Samantha Manuzak; Wardrobe: Kara Kiensicki for Colleen McCann Style; Photo: Taggart Winterhalter for Purely Visual