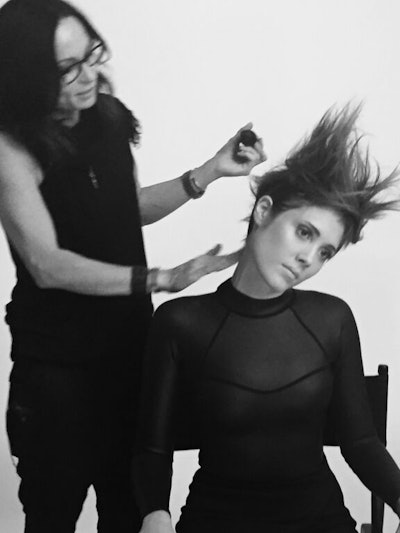 What's shaped my career? Passion, drive and a lot of hard work. There's no real 'magic' to success, but one key factor is mentorship – and it's an important piece of the puzzle that's always driven my career.  
I've had the honor of molding some of today's most successful young stylists, including Sebastian What's Next Award Winners, Katey-Bug Browne and Oliver Shortall. Watching them succeed has been extremely rewarding.
One of the aspects of my career that is and has always been of the utmost importance to me is being a mentor – both with my "Harlots" and with Sebastian Professionals nationwide.
So…what's in a mentor? A role model?
For me, that description is summed up in just two words – an incredible woman, completely ahead of her time: a pioneer named Geri Cusenza.
Geri helped me build the foundation of my career – not to mention, she was a cofounder of Sebastian Professional. She hired me in 1996 and I can confidently say that without her guidance, I would not be the stylist I am today. And so, it's my mission to carry on what she taught me – the principles behind being a mentor.
With the Sebastian What's Next Awards deadline just around the corner, the next question is: how? How do I get there? How do I become "what's next?"  
My advice is this: find a mentor who you admire – someone who inspires and pushes you to improve and grow as an artist. In the game: be ready to challenge yourself when it comes to competitions and every day behind the chair.
I encourage you to enter – or mentor – the 2016 Sebastian What's Next Awards. It's a brand that nurtures and there's still time left. Entries close on November 30 –> http://on.fb.me/1WXRdP2.
To borrow a few words from Geri – "Imagine we can change the world – to think of beauty differently and create something never seen before." You can – and I can't wait to see what incredible talent is brought to the table this year.