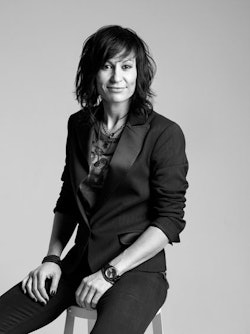 Those are just some of the terms used to describe Venice hair salon The Harlot owner Marylle Koken. Born and raised in Holland and schooled in France, Koken left the Netherlands to pursue her dream of becoming a hair stylist at just 19 years of age. Koken quickly exploded through the ranks at Sebastian International, progressing from apprentice to full-scale stylist with an impressive roster of star clientele.
In 1997 Koken got promoted to Artistic Director on Sebastian's International Artistic Team. She consequently traveled extensively throughout the United States, Europe, and Asia to perform in hair shows and instruct seminars. Her work on the team garnered tremendous respect within the industry, with Salon City proclaiming: "Koken is one of the nation's top performing media artists in hair making today." As Artistic Director Koken assisted with developing and branding Xtah's product line, maintaining the company's hair collections from 2000 to 2004, and directing international advertising campaign aesthetics for Sebastian as well as Mac cosmetics.
Despite her busy schedule Koken continues to do salon work, serving a Los Angeles clientele that includes Jack Nicholson, Catherine Deneuve, Juliet Binoche, Claudia Schiffer, Jack Osbourne, Kimberly Stewart, Paris Hilton, "OC" star Melinda Clarke, Morrissey from The Smiths, The Germs, Nine Inch Nails, America's Next Top Model and most recently The Kardashians. For a selection of Marylle's portfolio, go here.
Koken is the proud owner of Venice's hair salon The Harlot on Abbot Kinney. After launching in April 2011 The Harlot soon garnered accolade from the nation's top style magazines, leading to InStyle's 2011 October issue voting the Venice hair salon as the number one new hair salon in the greater Los Angeles area.