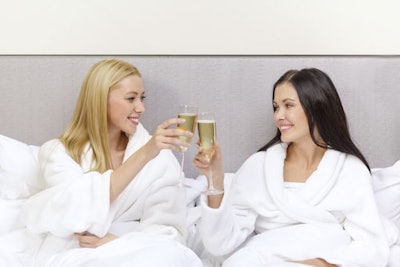 In my last blog, I provided tips on retailing for the holidays, but what about your spa menu? If you want to have your books filled, you need to feature the types of treatments that cater to people's lifestyle and needs during this time of year!

Group Treatments
Tis the season for houseguests! Family and friends are coming into town, which means an opportunity for them to come to your spa! Entice them to catch up with their loved ones at the spa by offering a special promotion, such as a "Bring a friend" offer. For example, bring a friend and each of you gets a free upgrade as part of your facial service.

Express Treatments
At your salon or spa, people are coming in for a quick blowout right before the next holiday party they have to attend. Help them look their best by providing a quick skin pick me up. Offer those who are looking to get in and out a 30 minutes or less type of treatment. Even go around to those who are at the shampoo bowl and offer a quick sheet mask. This is also a great way to talk to clients about your facial services. Skin care doesn't have to take all day!
Targeted Body Treatments
With people attending holiday events and parties, now is a great time to offer spot treatments that target different areas of the body. For example, a contouring arm treatment to have arms looking toned and beautiful for that sleeveless dress. To help reduce the appearance of cellulite and firm the stomach and thigh area, offer a slimming body treatment. For super dry areas of the body, including elbows, knees, heels or décolleté, feature a Glycolic peel or Enzymatic peel treatment. Your clients will be ready to take on their cocktail attire.

Detoxifying Treatments
Between big holiday meals and late night holiday parties, from November – January, "detox" is something that appeals to all of us, and to cater to this appeal you should offer various detoxifying body treatments on your spa menu. Accompany such treatments with a tall glass of lemon water, a green juice, and promote this treatment as the post-holiday healer to eliminate toxins!
Wishing you all the best this holiday season!