Courtesy of Andis Company
Best Supporting Actor Winner Ke Huy Quan stole the show at the Academy Awards with his stellar personality and timeless red carpet look. 
Celebrity stylist Anissa Salazar (@anissaemily) created Quan's look using tools from Andis Company. 
You can learn how to create this look with a tutorial below.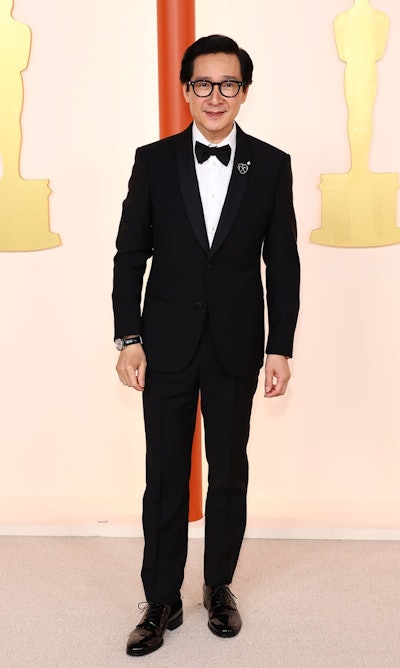 How-To: 
Begin with the Andis reSURGE Shaver for a smooth and clean shave. The titanium plates are flexible and set you up for a tight shave, where the head of the shaver can hug the contour of the face. This amazing feature is key in not missing any straggling hairs!
Remove bulk quickly using cordless reVITE Clipper, then trim with shears.
Afterward, clean up the nape and around the ears using the beSPOKE Trimmer, using a point-cutting motion to take out any additional weight and then using the reSURGE Shaver on the neck and nape for a clean finish. These trimmers are great to get a precise, razor-sharp line.
Prep the scalp using Tecuane Esperanza Scalp Tonic. This tonic provides instant hydration and acts as a nongreasy primer.
Complete the look by blow drying the hair 70% dry using the flat wrapping technique, and round brushing to over-direct in the opposite direction to achieve height and volume.
Finally, polish the look with lightweight and matte pomade.