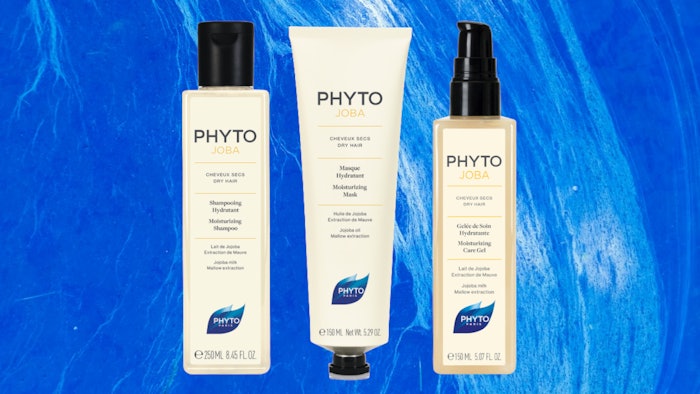 Courtesy of PHYTO
Keep your hair hydrated this winter with the Phytojoba line from PHYTO. 
Nourishing botanical jojoba milk and mallow extract included in this line leave hair soft and shiny and make hair easy to detangle.
To ensure you don't let the harsh temperatures and elements stop you from flaunting fabulous locks, the Phytojoba complete line offers a shampoo, moisturizing mask, and a leave-in gel that will help keep your hair healthy, hydrated and strong this winter. 
Phytojoba Moisturizing Shampoo – This aromatic coconut-based shampoo nurtures and softens distressed locks as it is formulated to gently cleanse and intensely hydrate hair. A high concentration of mallow flowers extract jojoba milk, detangle and restore elasticity, leaving hair smooth, supple, and shiny. 
Phytojoba Moisturizing Mask – This deeply hydrating, shine-enhancing mask weightlessly restores softness and luster to dry, dehydrated hair. Enriched with jojoba oil to moisturize intensely and detangle weightlessly, this indulgent conditioning mask features a unique concentration of angelica root extract and sweet orange essential oil, which imparts glossy shine and vitality to nourish and soften hair. 
Phytojoba Moisturizing Care Gel – Formulated with Hydra-Soin technology, this care gel durably hydrates dry hair. It forms a protective film on the surface of the hair and releases hydrating active ingredients into the heart of the fiber. Its fresh, melting texture, containing Jojoba milk, makes styling easy and offers a soft, silky finish.